Roasted Porchetta, 4-5 lbs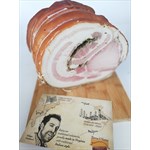 Category: Meat & Seafood
4-5 lb piece of Roasted Porchetta

This slow-roasted porchetta is an Italian classic. Stuffed with garlic and rosemary and seasoned with salt and pepper.

Easy to slice and serve as an appetizer. It can be enjoyed cold, or warmed up and served as a first course with vegetables. Perfect for sandwiches.

Very tasty! Great Italian flavor!
Tags
Hormone Free
Non-GMO
Available At These Locations
ASHLAND #1
|
ATLEE STATION #2
|
Belgrade #3
|
Bon Air #4
|
Brandermill #5
|
BROOKVIEW #6
|
Chesterfield #7
|
CUMBERLAND #8
|
FAN (Tabol Brewing) #9
|
FARMVILLE #10
|
Forest Hill #11
|
Ginter Park #12
|
GOOCHLAND #13
|
Grove & Libbie #14
|
HUGUENOT SPRINGS #15
|
MECHANICSVILLE #16
|
MIDLOTHIAN #17
|
MONTPELIER #18
|
OAKWOOD #19
|
Patient First #27
|
POWHATAN #20
|
Scotts Addition #21
|
TWIN HICKORY #2
|
Stony Point #22
|
TUCKAHOE #23
|
TWIN HICKORY #24
|
Zion Crossroads #26
|
West Creek-Hardywood
|
Burkeville-Waverly Farm #28
Purchase
2.5 % Virginia Food Tax