Bread Recipe - Seed Loaf - Organic, Naturally Lvnd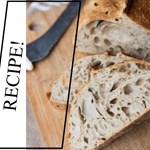 Category: Baked Goods
One priceless recipe for Organic, Naturally Leavened, Hearth Baked Bread, accompanied with a FREE loaf of our Seed Loaf variety.
Ingredients: [All Certified Organic] Unbleached Wheat Flour, Whole Wheat flour, Whole Rye flour, Whole Grains & Seeds mixture [Millet, Poppy, Flax, Sunflower Seeds, Cracked Oat, Wheat & Corn], Water, Salt.
Naturally Leavening = Better Flavor & Better Digestibility. For max enjoyment, eat or freeze the bread within 48 hours, and make the recipe often.
Tags
Certified Naturally Grown
Local
Naturally Grown
Non-GMO
Pesticide Free
Soy Free
Sugar Free
Sustainable Practices
Vegan
Dairy Free
Egg Free
Nut Free
Vegetarian
Available At These Locations
Belgrade #3
|
Bon Air #4
|
Brandermill #5
|
Chesterfield #7
|
Tabol Brewing (FAN) #9
|
Forest Hill #11
|
Tabol Brewing (Ginter Park) #12
|
Grove & Libbie #14
|
Zion Crossroads #26
|
ASHLAND #1
|
BROOKVIEW #6
|
FARMVILLE #10
|
GOOCHLAND #13
|
MECHANICSVILLE #16
|
MIDLOTHIAN #17
|
POWHATAN #20
|
Stony Point #22
|
TWIN HICKORY #24
|
HUGUENOT SPRINGS #15
|
TUCKAHOE #23
|
ATLEE STATION #2
|
OAKWOOD #19
|
Patient First #27
|
Tabol Brewing (Scotts Addition) #21
|
MONTPELIER #18
|
West Creek-Hardywood
|
Burkeville-Waverly Farm #28
Purchase
2.5 % Virginia Food Tax