*G.F. & D.F. Rosemary Olive Flat Bread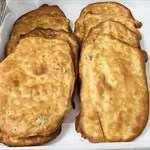 Producer: ...
Category: Baked Goods
From a Dedicated Gluten Free and Dairy Free bakery, an aromatic and savory blend of Rosemary and Pimento Stuffed Spanish Olives. Enjoy on its own or make a sandwich out of it eg. creamy tuna or chicken salad sandwich with a layer of mixed greens or drizzle some maple syrup on turkey breast and top with hot bacon to make a closed or opened faced sandwich. Store flat bread in refrigerator and use as needed. Freezes well. Also available in Chips and Bread Crumbs.
Tags
Dairy Free
Gluten Free
Wheat Free
Free Range
Available At These Locations
Purchase
1 % Virginia Food Tax