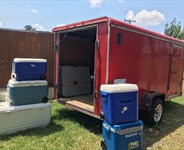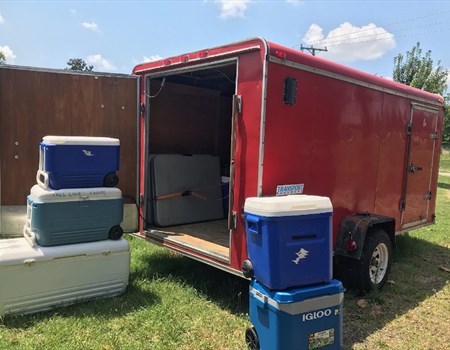 Fall Line Farms & Local Root is feeling the heat on Thursdays. We need coolers and ice blocks. Our non-profit market needs your help!

If there's one thing our community appreciates, it's fresh food. That's why we don't warehouse anything that comes in your Thursday order. Your food and other items come straight from the farmers and makers, who get together Thursday morning to make sure that your market haul is in your hands by that afternoon. But keeping everything cool is a challenge in July, August, and September. Our community has grown. More orders are coming in, so now we need more coolers and ice blocks to keep the produce and frozen foods in great shape for you.

We're calling on our community for some help footing the bill with this expense, which is a key factor in keeping our non-profit market running as usual. No donation is too small! If you're interested in helping us with our goal of acquiring 8-10 new coolers here's what you can do:

1. Donate a cooler.

Used coolers are fine, but they need to be pretty large. If you have a cooler that you might want to donate, please let Alex (our Market Manager) or Mandy (our Operations Assistant) know. You can email and they'll help determine whether it's big enough and how to make it easy for you to get the cooler to us. Use the email address admin@centerforruralculture.org.

To give you an idea of what kinds of coolers we are hoping to get, here are a couple of links to ones like what we're hoping to acquire: https://tinyurl.com/yyrvettw (smaller version) or https://tinyurl.com/5ftr2ee5 (larger version). Again, you can email Alex and Mandy at admin@centerforruralculture.org and they'll let you know where to deliver your cooler--no matter where you purchase it.
2. Donate money toward purchases of coolers. One advantage to the coolers shown in the links above is that we can buy replacement parts for them so that Alex can repair them when they (inevitably) suffer wear and tear. Donating money is another great option, and every little bit will help us! We'll just pool what you send us and purchase what we need.


You can donate money to this "Cool Drive" by following this link: https://www.centerforruralculture.org/get-involved .

Click on the orange "online" block and it will take you to our PayPal page.

Be sure to put "cooler campaign" in the "Notes" section so we'll know where to apply your donation.

Accept our gratitude. We all appreciate your help! read more...