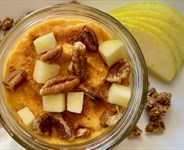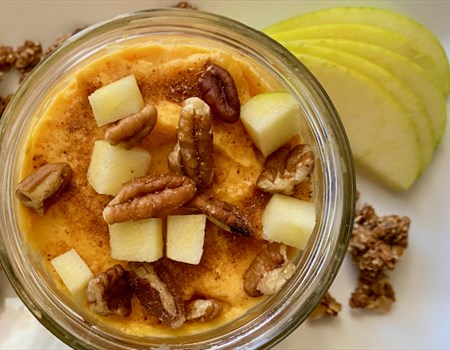 Looking for another way to use those sweet potatoes this season? Consider making this sweet potato yogurt found on Food52. It makes a great breakfast and easily paired with some apple, nuts, or granola. I used my preferred 2% greek yogurt that has no added sugars but you can use your go to.

You'll need:
1 cup greek yogurt
2 (~12-14 oz total) sweet potatoes

Preheat the oven to 450F
Wash and dry off sweet potatoes
Poke several holes in each sweet potato
Bake sweet potatoes for 45-60 minutes
Allow sweet potatoes to cool enough to be handled

Peel away the skin of the sweet potatoes and add the flesh to a food processor
Blend until completely smooth
Place in fridge or let sit on counter to cool to room temperature or below

Stir the yogurt into the sweet potato puree

You can add spices as you please to tweak the flavor. Enjoy! read more...