Spicy Salame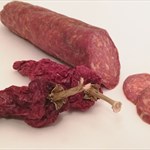 Category: Meat & Seafood
Half spicy salame, roughly 0.85 lbs
Enjoy this medium-hot salame as an appetizer, a quick snack, on a sandwich or on a pizza.
Our Spicy Salame is handmade, slow cured and is naturally flavored with sweet and hot calabrian paprika.
Slow cured for almost 60 days.
Produced in our factory in Amelia County, Virginia.
Tags
Local
Antibiotic Free
Hormone Free
Non-GMO
Available At These Locations
ASHLAND #1
|
ATLEE STATION #2
|
Belgrade #3
|
Bon Air #4
|
Brandermill #5
|
BROOKVIEW #6
|
Chesterfield #7
|
CUMBERLAND #8
|
FAN (Tabol Brewing) #9
|
FARMVILLE #10
|
Forest Hill #11
|
Ginter Park #12
|
GOOCHLAND #13
|
Grove & Libbie #14
|
HUGUENOT SPRINGS #15
|
MECHANICSVILLE #16
|
MIDLOTHIAN #17
|
MONTPELIER #18
|
OAKWOOD #19
|
Patient First #27
|
POWHATAN #20
|
Scotts Addition #21
|
TWIN HICKORY #2
|
Stony Point #22
|
TUCKAHOE #23
|
TWIN HICKORY #24
|
Zion Crossroads #26
|
West Creek-Hardywood
|
Burkeville-Waverly Farm #28
Purchase
2.5 % Virginia Food Tax