HaaShrooms
HaaShrooms cultivates a wide variety of gourmet Culinary and potent Medicinal Mushrooms.
Most of our mushrooms are grown indoors although we grow some species outdoors whenever possible.
All of our cultivated mushroom are chemical and pesticide free.
Steve Haas Mushrooms is the regions most trusted and reliable source of wildcrafted and foraged mushrooms.
We have access to thousands of acres of old growth hardwoods in and across the region allowing us to provide a steady supply of the mushroom kingdoms most prized delicacies.
Our wildcrafted mushrooms are prized by the areas finest restaurants, natural medicine practitioners, and local mushroom lovers!
Steve Haas Mushrooms also offers Guided Mushroom and Wild Food Forays for individuals and groups.
Those interested in wildcrafting mushrooms and other wild foods can contact us by phone or email to schedule a hunt!
Prevent colds and flu with HaaShrooms Shiitake Mushrooms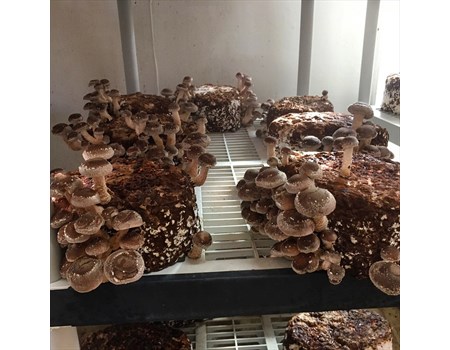 Shiitake mushrooms have been used for hundreds of years in traditional Chinese medicine.
Shiitakes are used to boost the immune system protecting against ailments ranging from the common cold to cancer.
Shiitake mushrooms also lower cholesterol levels and aid in the prevention of heart disease.
HaaShrooms Shiitake Mushrooms are available fresh picked on the morning of delivery or dried(great in soups)!!
Haas Skincare has changed it's name to Forage Skincare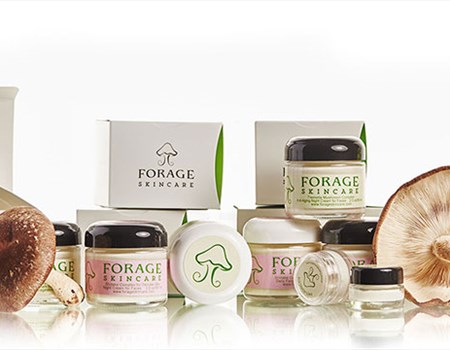 In his youth, Steve Haas learned to forage for wild mushrooms in the Blue Ridge Mountains of Virginia. Since then, Steve's fascination with mushrooms ultimately led him to become a mushroom farmer, mushroom forager, and renowned wild mushroom expert. Steve's love of nature and the healing arts led him to study and practice massage therapy and esthetics. Steve's many years of research and practical application ultimately led to the genesis of Forage Skincare.

A massage therapist and world-renowned mushroom expert, Steve has witnessed first-hand the endless health and skincare benefits of mushrooms in his own clients.

With over two decades of experience, Steve Haas has created Forage with the commitment to improving your skin's overall health with the natural and restorative powers of mushrooms.

All of our skincare products are formulated and handcrafted in small batches by Steves wife, Elizabeth Haas, also trained in esthetics. Together, Steve and Elizabeth are committed to bringing you the best products for your skins overall health.

Forage Skincare is a family owned and operated business. All of our products are paraben free and made from all natural and organic ingredients

But ultimately, it's not about us. It's about you! We are committed to giving you the best all natural products that help promote a healthy lifestyle and skin.
HaaShrooms World Famous Shiitake Pot Pie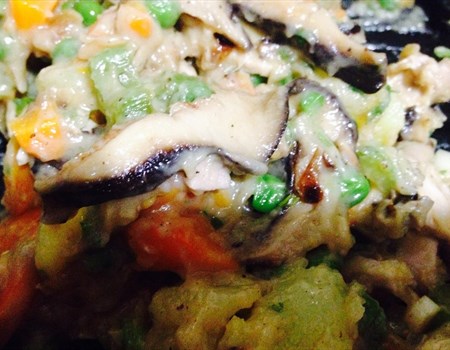 HaaShrooms World Famous Shiitake Mushroom Pot Pie

1/2 cup and 2 tablespoons butter
1/2 cup all-purpose flour
16 ounces chicken broth
1 pound sliced HaaShrooms shiitake mushroom caps
1 cup fresh or frozen peas
1 cup thin sliced carrots
1cup diced onions
1 cup cubed potatoes
1/2 cup chopped celery
1/3 cup chopped fresh parsley
2 tablespoons sliced garlic
2 tablespoons olive oil
1/2 teaspoon salt
1/2 teaspoon freshly ground pepper
1 egg
1 tablespoon water
Homemade or frozen but thawed pastry sheets

Preheat oven to 375°.
Steam potatoes and carrots until cooked but not mushy.
While potatoes and carrots steam melt 2 tablespoons butter and 2 tablespoons olive oil in a large skillet over medium heat in a large skillet.
Add sliced sliced shiitakes and sauté for a couple of minutes. Add onions and celery and cook for about 3 more minutes. Stir in peas,garlic, and parsley, cook another minute then remove from skillet.
Melt 1/2 cup butter in skillet.
Sprinkle in 1/2 cup flour stirring constantly for 3 minutes. Whisk in chicken broth whisking constantly till thick but smooth. Add sautéed and stemmed vegetables and mushrooms slowly stirring till mixed. Remove from heat.
Spoon mixture into your homemade or frozen but thawed pie shell in a 9 inch, deep dish pie plate. Place pastry sheet over filling, fold edges under, and press with tines of a fork, sealing to bottom crust. Whisk together egg and 1 Tbsp. water, and brush over top of pie.
Bake at 375° in oven for 45-50 minutes or until browned. Let stand 15 minutes.
Indulge!