Producer Recipe: Lamb Stuffed Eggplant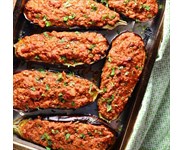 This super easy to make meat stuffed eggplant recipe is a delicious, healthy dish that's perfect for entertaining or as a family meal. Tastes great the next day too!



INGREDIENTS

1lb ground lamb (Burkeville-Waverly Farms)
3 large eggplants (Bibb Forest Farm)
1 onion finely chopped (Bibb Forest Farm)
3 garlic cloves finely chopped (Dragonfly Farm)
1lb chopped tomatoes (Manakintowne Specialty Growers)
4 tablespoons tomato puree (Twisted Carrot Farm)
4 tablespoons olive oil plus a little more for drizzling (Terra di Siena)
1¼ teaspoons cumin powder, smoked paprika, fine sea salt each (Good Health Herbs)
½ teaspoon cayenne pepper, onion powder, mushroom powder each (HaaShrooms)
⅓ teaspoon ground nutmeg
Curtido Kraut for garnish or side option (Farmstead Ferments)


INSTRUCTIONS

Preheat the oven to 400 F. Cut the eggplants in half lengthways and place on a large baking tray open side up. Brush/drizzle with a little olive oil (2 tablespoons) and bake for 30 minutes. Remove from the oven and allow to cool a little. Keep the oven on.


Whilst the eggplant is in the oven prepare the sauce. In a large frying pan heat up 2 tablespoons of the oil, add the garlic and onion and cook over a medium heat for 2-3 minutes stirring often. Add the meat, mash using a fork and continue cooking for 3 more minutes. Add the chopped tomatoes, tomato puree and spices, stir and cook over medium/high heat for about 5 more minutes. Remove from the heat and set aside.


Once the eggplants have cooled a little scoop out the flesh leaving about 8 mm around the edges (you can do this using a knife and either a melon baller or a large spoon). Place the pulp, along with HALF of the sauce in a blender and whiz for a few seconds until the ingredients are well combined. Add this mixture to the remaining sauce and stir thoroughly.


Place a generous amount of the sauce inside the eggplant halves, drizzle with a little oil and bake for 40 minutes.


Remove from the oven, top with fresh curtido kraut and serve.


ENJOY!

Published: 08/12/2022
Producer Recipes: Maple Braised Back Ribs
Prep time: 20 mins

Cook time: 3 hours

Total time: 3 hours 20 mins


Ingredients (click on the farm names for a direct link to the ingredient needed!)

3 lb. buffalo back ribs (Virginia Bison Co.)
2 tablespoon cooking oil (Terra Di Siena)
1 cup chili sauce (WILD EARTH FERMENTATION)
1 can tomato sauce (14 oz.) (Leek & Thistle)
1/3 cup cider vinegar (Good Health Herbs)
1 cup chopped onion (Thistledowne Farm)
3-5 tablespoon maple syrup or honey (Bibb Forest Farm)
1 tablespoon Worcestershire sauce
1/2 tablespoon lemon juice (Good Health Herbs)
1 teaspoon dry mustard
1 teaspoon salt (Good Health Herbs)
1 1/2 teaspoon chili powder
1/4 teaspoon ground pepper (Good Health Herbs)


Instructions

1. Using a large saucepan, brown ribs in cooking oil over medium high heat; or coat ribs lightly with oil and brown quickly on a hot barbecue grill. Set browned ribs aside.

2. Combine all remaining ingredients in a large mixing bowl to form sauce. Transfer sauce to a Dutch oven or shallow ovenproof baking dish with cover.

3. Split ribs into 2 to 3 bone sections. Immerse ribs in a sauce in a single layer. If sauce appears to be insufficient add up to 1 cup of water.

4. Cover Dutch oven or baking dish and bake in a 250°F oven for 3 hours. Agitate every hour or so. Add some additional water only if necessary.

5. After 3 hours cooking, turn off oven and allow ribs to remain there until room temperature is reached. Leave ribs in cooking dish overnight.

6. Next day remove rib dish from the refrigerator and reheat at 300°F for one hour, or until ribs are heated through.

7. Separate ribs from sauce and hold in warm oven. Thicken sauce by cooking at a low boil for about 15 minutes, or until desired thickness is reached. Remove ribs from oven and serve with sauce.



For more information and some great Bison recipe ideas, check out their website here:
https://virginiabison.com/

Published: 08/01/2022
Pork Loin Roast with Vegetables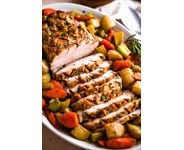 ***Reminder that we will be closed for the Holidays from December 23rd-January 5th. Our buying pages reopen on January 6th to Welcome the New Year***


Fall Line Farms & Local Roots

Holiday Recipes:

Pork Loin Roast with Vegetables
 
Ingredients:

3 pounds Boneless Pork Loin Roast - ThorneBrook Farms
3 tablespoons olive oil - Terre di Siena
4 cloves garlic, minced
2 1/2 tablespoons crushed 'Holiday Herbs' - Manakintowne Specialty Growers
½ teaspoon paprika
5 carrots, peeled and cut into 1-inch pieces - Liberty Tree Farm
4 stalks celery, cut into 1-inch pieces
1 pound baby yukon gold potatoes, quartered
Sea Salt, to taste - Good Health Herbs
Freshly Ground Black Pepper, to taste - Good Health Herbs



Instructions:

Take the roast out of the fridge and place the fat side up on a platter or parchment-lined work surface to come to room temperature.

While the roast is coming to temperature, preheat the oven to 450°F.
In a small bowl, add 1 tablespoon olive oil, minced garlic, holiday herbs, and paprika; mix to combine and set aside.

When the roast has reached room temperature, score the skin and fat ¼-inch deep in a cross-hatch pattern at 1-inch intervals. This will allow the seasoning flavor to soak in while roasting.

Generously season the pork with salt and pepper.

Place your roast into a 5-quart or larger baking dish. Gently rub the herb mixture all over your pork loin.

Cover the roast with a sheet of aluminum foil. Roast for an initial 20 minutes.

In the meantime, prep and slice your carrots, celery, and potatoes, and place them in a bowl; toss with 1 tablespoon olive oil, salt, and pepper.

After the initial 20 minutes of roasting, lower the oven temperature to 350°F and remove the pork from the oven.

Uncover and add the vegetables in the dish around the pork roast. Add an additional 1 tablespoon of olive oil sprinkled on top of the vegetables and pork.

Continue to roast uncovered at 350°F for 35 to 45 minutes, or until the pork roast registers an internal temp of 145°F and vegetables are tender. Use an instant read meat thermometer to check for doneness.

Remove from the oven and re-cover with a piece of foil. Let it rest for 10 minutes.

Remove pork roast from the baking dish and transfer to a cutting board; slice and serve with the vegetables.

ENJOY!

Published: 12/09/2022
THANKSGIVING PRE-ORDERS TURKEY & PIE + HOLIDAY SPECIALS!!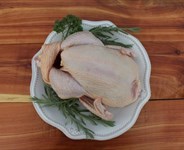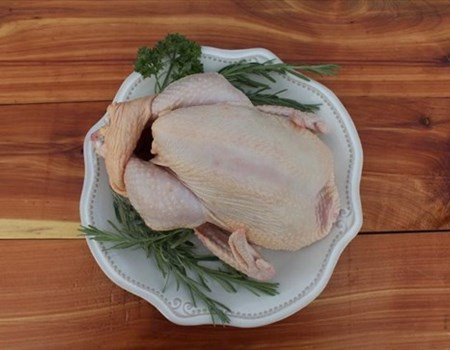 Fall Line Farms & Local Roots

HOLIDAY SEASON

Featuring:

Your favorite ALL-LOCAL Thanksgiving!

This year's going to be a great one.

 
We're introducing the much anticipated and exciting

new producer:

Spring Creek Meadows for Pre-Order Whole Turkeys!



 
We're so excited for River City Bakery's fresh from the oven, pre-order pie options

River City Bakery was established in 2017 by Colleen Geyer. Colleen's baking journey began when she was 3 years old. She would stand on a stool in her family farm kitchen while watching and helping her grandmother make pies and rolls. Since then, her passion for baking has only grown. When not working on her family's fruit farm or attending school, Colleen could often be found in the kitchen, working on several culinary projects.



Leek & Thistle has introduced some mouth-watering holiday specials Available Now!

Handmade Ready Meals, Frozen and Fresh - Locally Sourced and Delicious!

Mela uses fresh, local ingredients to create a wholesome range of main courses, soups, and entertaining meals that are frozen and ready to heat. She also has a wide selection of vegan and vegetarian offerings.

This year Leek & Thistle's Holiday Menu Includes:

Baked Stuffed Brie

Cranberry Orange Relish

Sausage & Apple Cornbread Stuffing

Savory Turkey Gravy

Sweet Potato Casserole w/ Brown Sugar



Order Your Holiday Side Specials Here
 


Don't forget to save the date for the

Annual Wreath Making Workshop on

December 3rd at Huguenot Springs.



And soon to announce, an exciting

Winter Jam Session Class!



The holidays are kick-starting, so buckle up and enjoy everything our Local Community has to offer us.



Happy Holidays from

Fall Line Farms & Local Roots!

Published: 11/04/2022
FLF&LR Halloween Recipe Ideas!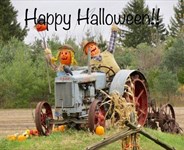 Fall Line Farms & Local Roots

Halloween Recipe Ideas!




Roasted Red Pepper Deviled Duck Eggs



Ingredients
8 large duck eggs - Feathers & Flowers Farm
¼ cup drained & chopped roasted red peppers - Curds and Whey RVA
3 tablespoons mayonnaise
1 teaspoon Dijon mustard
¼ teaspoon paprika, plus more for sprinkling
Salt and pepper - Good Health Herbs
3 chives, cut into 16 1/2-inch pieces - Manakintowne Specialty Growers

Directions
Bring a large pot of water to a boil over high heat. Gently lower eggs into water, return to a boil and reduce heat to a low simmer. Cook eggs 11 minutes, drain and place in a large bowl of ice water. Cool completely, at least 10 minutes.


Crack eggs and carefully peel under cool running water. Slice in half lengthwise, scoop out yolks and place them in a food processor with peppers, mayonnaise, mustard and paprika. Cover and refrigerate whites. Process yolk mixture until smooth; taste and season with salt and pepper.


Transfer yolk mixture to a pastry bag fitted with a large round tip or a large ziplock bag. If using a bag, squeeze out air, seal and snip off a corner. Pipe about 1 Tbsp. filling into center of each egg white, to resemble a pumpkin. Set a piece of chive diagonally into filling to resemble a stem. Sprinkle yolks with paprika. Serve immediately or cover and refrigerate for up to a day.
[Modified recipe by myrecipes.com]




Shredded Chicken & Rice Stuffed Peppers



Ingredients
4 bell peppers your choice of color - Bibb Forest Farm
2 cups rice - Good Health Herbs
1 shredded chicken breast - Peacemeal Farm
1 cup shredded cheddar cheese
1 cup black beans - Salsa Don Sebastian


Directions
Bring a large pot of water to boil.
While you are waiting for the water to boil, rinse peppers, slice off the tops and hollow out the insides, be sure to remove any seeds and the white part inside. If desired, use a small paring knife to cut out a jack-o-lantern face.
When water is boiling, put the peppers and tops in and allow to cook for about 5 minutes until peppers are tender. Remove from water and set aside to cool.
Mix the cooked rice, shredded chicken, cheddar cheese, and black beans together in a large bowl.
Fill each pepper with the chicken and rice mixture and top with extra cheese, if desired. Replace pepper top back on top.
Bake at 350 for 30 minutes until cheese is melted and pepper is done to desired tenderness. Alternately, once peppers are stuffed, wrap in plastic wrap and refrigerate, when ready to cook, preheat oven to 350, remove plastic wrap and bake for 1 hour.
[Modified recipe by everydayjenny.com]

 

 

Spooky Shepard's Pie

Ingredients
Mashed Potatoes:

4 large potatoes, peeled and cubed - Bibb Forest Farm
1/4 cup (4 Tablespoons) butter - Virginia Bread Company
1/4 cup sour cream
1/4 cup milk - Richland's Creamery
1/4 cup shredded Cheddar cheese
salt and pepper to taste - Good Health Herbs
Beef Mixture:

1 tablespoon oil - Golden Harvest Oil
1 onion, chopped
1 clove garlic, minced
1 pound lean ground beef - ThorneBrook Farms
1 teaspoon steak seasoning
2 tablespoons Worcestershire
2 tablespoons all-purpose flour
1 tablespoon ketchup
3/4 cup beef broth
1 cup frozen peas and carrots - Liberty Tree Farms
1/4 cup shredded Cheddar cheese for topping


Directions
Preheat oven to 375 degrees. Bring a large pot of salted water to a boil. Add potatoes and cook until tender, about 15-20 minutes. Drain and mash. Place in a large bowl and mix in butter, sour cream, milk, cheese, and salt and pepper to taste. You can add more milk to your desired consistency. This yields about 4 1/2 cups of mashed potatoes. Set aside.
While potatoes are boiling, heat the oil in a large frying pan. Add onion and cook until clear. Add the garlic and cook for 30 seconds. Add ground beef, steak seasoning, and Worcestershire and cook until well browned. Pour off excess fat, then stir in flour and cook 1 minute. Add ketchup, beef broth, and frozen carrots and peas. Bring to a boil, reduce heat and simmer for 5 minutes.
Spread the ground beef in an even layer on the bottom of a 2 quart casserole dish. For spooky mashed potato ghosts spoon the mashed potatoes into a large Ziploc back and cut a large hole in one corner. Pipe mashed potato ghosts and place two peas as eyes. Sprinkle the remaining cheese around the ghosts.
For regular shepherd's pie: Top with the mashed potato mixture and sprinkle with remaining shredded cheese.
Bake in the preheated oven for 20 minutes, or until golden brown.
[Modified recipe by the-girl-who-ate-everything.com]

Published: 10/24/2022
Producer Recipe: Autumn Squash Salad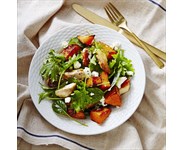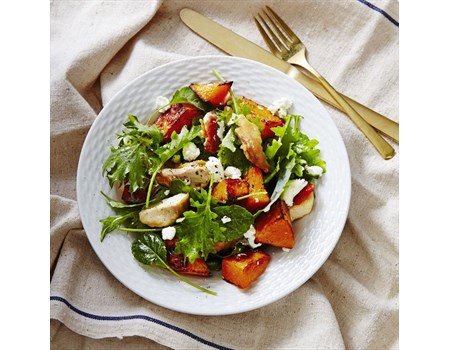 Ingredients:


2 20-oz. containers chopped Butternut Squash - Bibb Forest Farm
1 lb. Chicken Thighs - Peacemeal Farm
2 tbsp. Oil - Terra di Siena
1/2 tsp. Salt - Good Health Herbs
1/2 tsp. Pepper - Good Health Herbs
5 oz. Mixed Greens - Twisted Carrot Farm and Market
3 tbsp. Lemon Herb Sauce - Gathered Threads
4 oz. Goat Cheese, crumbled - Caromont Farms


Directions:


On 2 large rimmed baking sheets, toss Butternut Squash and Chicken Thighs with Oil and Salt and Pepper.
Bake at 425 degrees F for 40 minutes or until squash is tender.
Chop chicken.
Toss with Squash, Mixed Greens, Lemon Herb Sauce, and Goat Cheese.
Season with Salt and Pepper to taste.
ENJOY! HAPPY FALL YALL!

Published: 09/22/2022
Creamy Wild Rice Chicken Soup with Roasted Mushrooms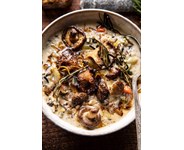 This soup is made using pantry staples like wild rice, autumn herbs, and chicken breasts. It's a hearty warming meal to enjoy any night of the week.

Prep Time: 15 mins

Cook Time: 30 mins

Total Time: 45 mins

1 pound boneless, skinless chicken breasts: Peacemeal Farm
1 1/2 cups dry wild rice blend: Good Health Herbs
6 carrots, chopped: Bibb Forest Farm
3 teaspoons dried celery, or 3 stalks chopped: Twisted Carrot Farm
1 medium yellow onion, chopped: Bibb Forest Farm
6 cups low-sodium chicken broth: Peacemeal Farm
2 teaspoons chopped dried thyme: Gathered Threads
1 tablespoon chopped fresh sage or 1 teaspoon dried: Dragonfly Farm
1/2 teaspoon crushed red pepper flakes: Liberty Tree Farm
2 cups braised spinach or kale: Liberty Tree Farm
2 tablespoons chopped fresh parsley: Manakintowne Specialty Growers
1 cup heavy cream or whole milk: Richlands Creamery
1/2 cup grated pecorino cheese, plus more for serving: Terra di Siena
kosher salt and black pepper: Good Health Herbs
6 tablespoons salted butter, melted
2 pounds mixed mushrooms, roughly torn: HaaShrooms
2 sprigs fresh rosemary: Feathers & Flowers Farm
4 cloves garlic, smashed: Dragonfly Farm
zest from 1 lemon
Instructions
Slow Cooker

1. In the bowl of your slow cooker, combine the rice, chicken, carrots, celery, onion, broth, thyme, sage, crushed red pepper, and a pinch each of salt and pepper. Add 1/2 cup water. Cover and cook on low for 5-6 hours or on high for 2-3 hours.
2. Shred the chicken with 2 forks. Stir in the cream, pecorino cheese, and spinach. Cook until warmed through, about 30 minutes. Stir in the parsley. If the soup is thick, add an additional 1/2 cup water.
3. To make the mushrooms. Preheat the oven to 425 degrees F. On a baking sheet, combine the butter, mushrooms, garlic, rosemary, lemon zest, and a pinch each of salt and pepper. Transfer to the oven and roast for 25-30 minutes, stirring halfway through cooking, until the mushrooms are golden and crisp
4. Mash the garlic with a fork, then stir in the mushrooms, mashed garlic, and any butter left into the soup.
5. Divide the soup among bowls and top with rosemary and additional parmesan.
Instant Pot

1. In the bowl of your instant pot, combine the rice, chicken, carrots, celery, onion, broth, thyme, sage, crushed red pepper, and a pinch each of salt and pepper. Cover and cook on high pressure for 15 minutes. Quick release the steam.
2. Switch the instant pot to sauté. Shred the chicken with 2 forks. Stir in the cream, pecorino cheese, and spinach. Cook until warmed through, about 10 minutes. Stir in the parsley.
3. To make the mushrooms. Preheat the oven to 425 degrees F. On a baking sheet, combine the butter, mushrooms, garlic, rosemary, lemon zest, and a pinch each of salt and pepper. Transfer to the oven and roast for 25-30 minutes, stirring halfway through cooking, until the mushrooms are golden and crisp.
4. Mash the garlic with a fork, then stir in the mushrooms, mashed garlic, and any butter left into the soup.
5. Divide the soup among bowls and top with rosemary and additional parmesan.
Stove-Top

1. In a large soup pot, melt 2 tablespoons butter. Add the carrots, celery, onion, and a pinch each of salt and pepper. Cook until fragrant and caramelized, about 3-5 minutes. Stir in the broth, chicken, wild rice, thyme, sage, crushed red pepper, and season with salt and pepper. Bring to a bowl over high heat. Once boiling, cover and reduce the heat to low, cook 35-45 minutes, until the rice is tender.
2. Shred the chicken with 2 forks. Stir in the cream, pecorino cheese, and spinach. Cook over medium heat until warmed through, about 10 minutes. Stir in the parsley.
3. To make the mushrooms. Preheat the oven to 425 degrees F. On a baking sheet, combine the butter, mushrooms, garlic, rosemary, lemon zest, and a pinch each of salt and pepper. Transfer to the oven and roast for 25-30 minutes, stirring halfway through cooking, until the mushrooms are golden and crisp.
4. Mash the garlic with a fork, then stir in the mushrooms, mashed garlic, and any butter left into the soup.
5. Divide the soup among bowls and top with rosemary and additional parmesan.
Notes
Leftovers: If eating this leftover, the rice will soak up a good amount of liquid. It will still taste great, but if you'd like for it to be soup again, you will need to add broth. Or just eat good flavored rice!

Slow Cooker: please note that slow cookers can vary and some are having issues with their rice getting mushy. I recommend to start checking for doneness around 5 hours on low. If the soup gets too thick, add water to thin.

Nutrition
Calories: 310kcal

Published: 09/02/2022
One Skillet Greek Chicken and Pasta with Tomatoes and Feta
Keeping things colorful and easy today with this One Skillet Greek Chicken and Pasta with Tomatoes and Feta. Greek inspired oregano chicken cooked together with bell peppers and pasta to create a deliciously, healthy one skillet style summer dinner. The chicken is finished with garlic tomatoes, feta cheese, with an option to add creamy tzatziki sauce. It's simple but mouthwatering and made in no time!

Ingredients:

-4 tablespoons extra virgin olive oil (Terra di Siena)
-1 pound boneless skinless chicken, cut into bit size pieces (Peacemeal Farm)
-1/2 cup dired Italian Herbs (Liberty Tree)
-2 teaspoons Crushed dried peppers (Liberty Tree)
-1 pinch each kosher salt and black pepper (Good Health Herbs)
-2 tablespoons Vinaigrette Salad Dressing (Misty Morning Sunrise Farm)
-4 cloves garlic, chopped (Crumptown Farm)
-1 bell pepper, sliced (Bibb Forest Farm)
-1 cup Caponata or pitted olives (Curds & Whey)
-2 cups orzo, penne or pici pasta (Terra di Siena)
-1 cup crumbled feta cheese (Caromont Farm)

Tomatoes:

-1/3 cup extra virgin olive oil (Terra Di Siena)
-1 clove garlic, grated (Crumptown Farm)
-2 cups mixed heirloom tomatoes, chopped or halved (Crumptown Farm)
-1/3 cup fresh basil, chopped (Broadfork Farm)


Instructions:

1. In a large skillet, toss together the olive oil, chicken, oregano, dried peppers, and a pinch each of salt and pepper. Cook over medium-high heat until the chicken is browned all over and cooked through, about 5 minutes. Stir in a vinaigrette dressing of choice and garlic, cook another minute. Remove the chicken from the skillet.

2. To the skillet, add the bell peppers. Cook until soft, 2-3 minutes. Add the pasta of choice and 2 1/2 cups water. Season with salt and pepper. Cook, stirring often until almost all the water is absorbed, about 10 minutes. Stir the chicken and caponata or pitted olives into the pasta. Allow the chicken to warm through, about 3 minutes.

3. Meanwhile, toss all the ingredients for the tomatoes together in a bowl. Season with salt and red pepper flakes (optional).

4. To serve, spoon the tomatoes over the chicken and gently toss. Serve each topped with feta cheese and tzatziki (optional).

Published: 07/25/2022
Producer Recipes: One Skillet Greek Chicken and Pasta with Tomatoes and Feta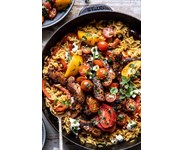 Keeping things colorful and easy today with this One Skillet Greek Chicken and Pasta with Tomatoes and Feta. Greek inspired oregano chicken cooked together with bell peppers and pasta to create a deliciously, healthy one skillet style summer dinner. The chicken is finished with garlic tomatoes, feta cheese, with an option to add creamy tzatziki sauce. It's simple but mouthwatering and made in no time!

Ingredients:

-4 tablespoons extra virgin olive oil (Terra di Siena)
-1 pound boneless skinless chicken, cut into bit size pieces (Peacemeal Farm)
-1/2 cup dried Italian Herbs (Liberty Tree)
-2 teaspoons Crushed dried peppers (Liberty Tree)
-1 pinch each kosher salt and black pepper (Good Health Herbs)
-2 tablespoons Vinaigrette Salad Dressing (Misty Morning Sunrise Farm)
-4 cloves garlic, chopped (Crumptown Farm)
-1 bell pepper, sliced (Bibb Forest Farm)
-1 cup Caponata or pitted olives (Curds & Whey)
-2 cups orzo, penne or Pici pasta (Terra di Siena)
-1 cup crumbled feta cheese (Caromont Farm)

Tomatoes:

-1/3 cup extra virgin olive oil (Terra Di Siena)
-1 clove garlic, grated (Crumptown Farm)
-2 cups mixed heirloom tomatoes, chopped or halved (Crumptown Farm)
-1/3 cup fresh basil, chopped (Broadfork Farm)


Instructions:

1. In a large skillet, toss together the olive oil, chicken, oregano, dried peppers, and a pinch each of salt and pepper. Cook over medium-high heat until the chicken is browned all over and cooked through, about 5 minutes. Stir in a vinaigrette dressing of choice and garlic, cook another minute. Remove the chicken from the skillet.

2. To the skillet, add the bell peppers. Cook until soft, 2-3 minutes. Add the pasta of choice and 2 1/2 cups water. Season with salt and pepper. Cook, stirring often until almost all the water is absorbed, about 10 minutes. Stir the chicken and caponata or pitted olives into the pasta. Allow the chicken to warm through, about 3 minutes.

3. Meanwhile, toss all the ingredients for the tomatoes together in a bowl. Season with salt and red pepper flakes (optional).

4. To serve, spoon the tomatoes over the chicken and gently toss. Serve each topped with feta cheese and tzatziki (optional).

Published: 07/25/2022
Apple and Sage Breakfast Sandwich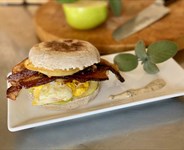 The Apple and Sage Breakfast Sandwich is wonderful through fall and winter while apples are still plentiful. You can add bacon to it or not, it's great either way.

First, you'll need to make up the sage aioli:
1/2 cup of your choice of mayo
2-3 cloves of garlic, peeled and finely chopped
1T fresh sage, finely chopped
1t lemon juice
1/2T EVOO (exclude if your mayo of choice was already thin)

mix the ingredients together and keep refrigerated until needed.

The rest of the ingredients of the sandwich are simple and most can be found on our pages during the fall and winter seasons:
eggs (1 or 2 works)
green apple
bacon (optional)
english muffin
smoked gouda

Cook up the bacon and egg(s). When they are nearly finished, begin toasting the english muffin, but don't fully brown - you'll want to melt the cheese slightly on the top piece after a light toasting.

To assemble:
smear sage aioli on the bottom half, layer thin slices of apple, then lay egg, then bacon, and top with melty cheese.

Enjoy!

Published: 01/30/2022