Spinach, Lamb, and Feta Burgers à la ThorneBrook Farms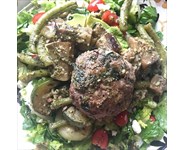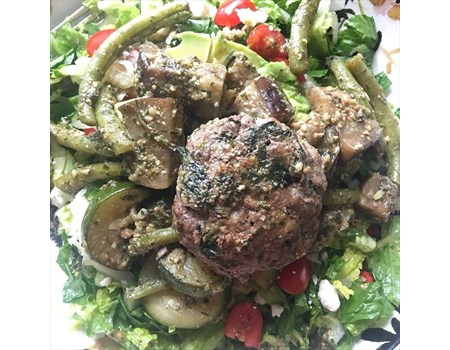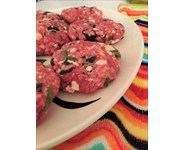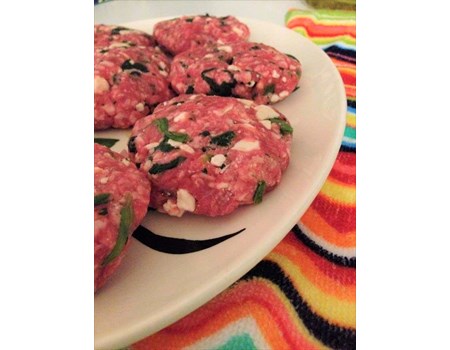 This recipe makes use of some seasonal spring items that are easy to find on our pages right now: lamb, spinach, and feta. Jil Davis of ThorneBrook Farms once again sends us a delicious idea for a dinner that's sure to delight.

Since we have these amazing local ingredients, it's easy to include them in your market haul and slip this recipe into your meal planning rotation. You can make the burgers and the sauce over the weekend and just pull them out to cook and enjoy on the designated evening. An easy, delicious weeknight meal!

You'll need:
· 1 lb of ground lamb
· Fresh or frozen spinach—about 8 oz.
· 8 oz. feta cheese (more or less, according to your taste)
· Salt and pepper

If you're using fresh spinach, you need to sauté it first to wilt it down a little. If you're using frozen spinach, put the frozen greens in a colander and let them thaw, then squeeze the water out of them with your hands. Use only a handful of the thawed, squeezed greens.

Once the spinach is ready, crumble the feta into a large bowl, add the spinach, and crumble the ground lamb into the bowl as well. Add salt and pepper. Toss with your hands until well mixed, then form into burgers and cook in a skillet or on the grill.

Not feeling the burgers? Spread the meat combo out on a sheet pan, put it in the oven, and bake until browned and sizzling. Then try one of these equally delicious ideas:

· Combine with fresh spinach and tzatziki sauce* in a pita pocket;
· Create a Mediterranean bowl with brown rice, pickled veg, arugula, and tzatziki;
· Use the burger or the meat mixture as a salad topper.

*Tzatziki sauce is easy to make. Shred cucumbers of any kind until you have about ½ a cup. Salt the shreds lightly, toss, and put them in a colander to drain while combining the other elements of the . Let them drain for at least 15 minutes. Combine 1 cup of plain Greek yogurt, some chopped dill, about a tablespoon of fresh lemon juice, pepper, and a crushed garlic clove. Squeeze the cucumber shreds with your fist to get most of the water out before adding to the yogurt mixture, then stir in. Adjust the sauce to your taste with the addition of more salt, lemon, dill, whatever. Eat right away, or better yet, let it sit in the fridge overnight so the flavors will meld.

Published: 03/16/2021
ThorneBrook Farms Oven-Baked Quesadillas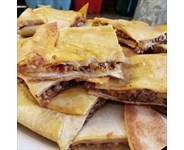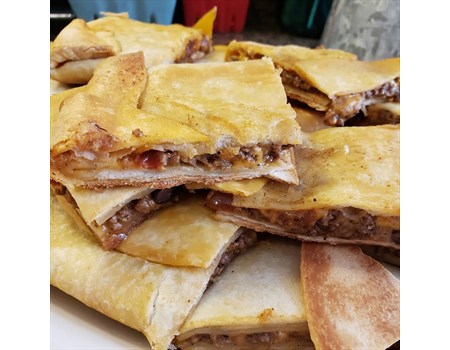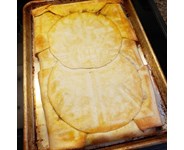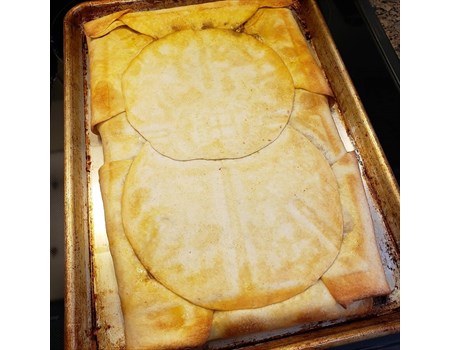 Jil and Brooks Davis raise grass-fed beef cattle in Goochland. They live on a farm in Cumberland County. Brooks is the farmer extraordinaire, and Jil is the PR and business manager--not to mention a fabulous cook. We're excited that she's shared this delicious quesadilla recipe with us, which is perfect for dispelling the February blahs. Thank you, Jil and Brooks, for all that you contribute to our community.

Jil based these quesadillas on a recipe from Ree Drummond (The Pioneer Woman), and put her own personal spin on it to make it extra delish! These beef quesadillas will really satisfy your family's hunger, and they are great warmed over, too. (Don't you love cook-once-eat-twice recipes? We sure do!)

Here's the "How-To":

If you're filling with meat, you'll want to prepare that first. This recipe used 1 pound of ThorneBrook Farms' grass-fed ground beef, flavored with taco seasoning and then browned. (Scroll down to the bottom for our easy taco seasoning recipe.) By the way--Jil says that this recipe is excellent made with a pound of their grass-fed chorizo, browned. No taco seasoning needed.)

Arrange the tortillas on a rimmed cookie sheet/jelly roll pan so that they overlap and cover the bottom, but so that they also hang over the sides.

Fill them up with your favorite fillings, including cheese, black beans, and salsa—whatever you crave in a quesadilla!

Fold the sides over the filling and then cover any gaps with more tortillas or a top layer. Brush the whole thing generously with butter and place another cookie sheet on top to press it down. Look how gorgeous this looks when it comes out of the oven!

Bake at 450 degrees for 20 minutes or so. Top with more salsa, chopped green onion, chopped tomato, sour cream—whatever you like best. Yummo!

This is an easy and quick weeknight dinner, and easy to work into your meal prep. The leftovers are also wonderful warmed up.

Don't just take our word that Jil is a whiz in the kitchen! Follow ThorneBrook Farms on social media (@thornebrookfarmsva) if you're interested in learning more about grass-fed beef raised the right way, or if you love eloquently written insights into farm life. You'll also love this page if are on the search for recipes that give you great ideas for using this wonderful beef, which we're proud to offer through our non-profit online market. You can find their grass-fed beef here: https://flflr.luluslocalfood.com/Shopping/Search?CategoryId=&ProducerId=9474&SearchTerm=.




HOMEMADE TACO SEASONING:
Taco seasoning is easy to make at home, and most people already have the ingredients in their spice cabinets. Just combine 1 tablespoon of Tbsp chili powder with 1 and a half teaspoons of garlic powder, a teaspoon of smoked or plain paprika, a teaspoon of cumin, 1/2 a teaspoon of either oregano or epazote, and a pinch each of salt and pepper. Adjust to your taste, and heat it up with your favorite red pepper flakes or some other spicy ground pepper.

Published: 02/22/2021
Agriberry's Raspberry Overnight Oats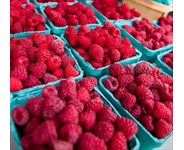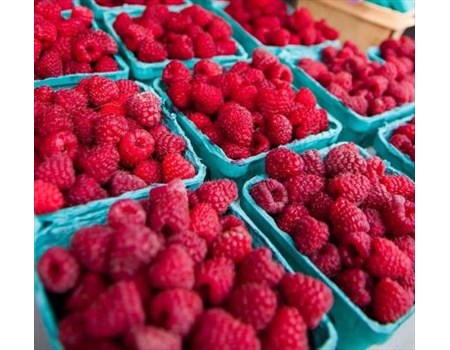 Many thanks for Sara, the CSA manager at Agriberry, for sharing this recipe with us!

Agriberry grows their raspberries locally and they pick them at the peak of freshness and flavor. You'll see them, just-picked, on our pages when they're in season. Lucky for us, some of them are frozen right out of the field so that we can have delicious local berries in the winter. Extra-added plus: they're good for you!


This is a great recipe for folks who like to take their breakfast with them to eat later. (It's great for lunch, too!)


TO MAKE THE OVERNIGHT RASPBERRY OATS:


Layer these ingredients in a wide-mouth Mason Jar:


· 1/2 cup old fashioned oats

· 1 tbs black chia seeds

· 3/4 mashed ripe banana

· 1/2 cup frozen raspberries

· 1/4 cup vanilla yogurt

· 1/2 cup unsweetened coconut milk


Mix the ingredients together, put a lid on the jar, and leave it in the fridge overnight or for several hours.


Enjoy!

SHOPPING SUGGESTIONS:

Of course, you'll want to order your raspberries from Agriberry. And yes, we have no bananas. (They aren't local!) But we do have Good Health Herbs, which sells important pantry staples needed for this recipe, such as organic rolled oats.



TIPS AND TRICKS:

No vanilla yogurt? Use plain yogurt with a little honey or maple syrup and vanilla mixed in. (Honey and maple syrup are almost always available on our pages!)


No coconut milk? No problem! just substitute some local milk from Richlands Creamery! Oat milk and almond milk work fine, too.


Keep this recipe handy all year. Any frozen or fresh berries—or other juicy fruits, like sliced peaches—will work beautifully.


For a little extra crunch, chop some nuts and sprinkle on top right before eating. If you're feeling really decadent, add a few chocolate or carob chips.

Published: 01/29/2021
RECIPE: Agriberry's Apple, Cheese, and Bacon Bites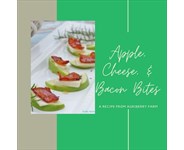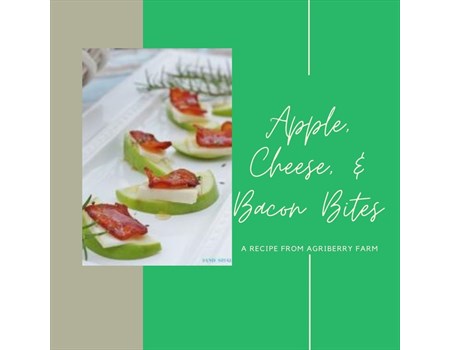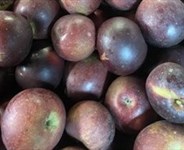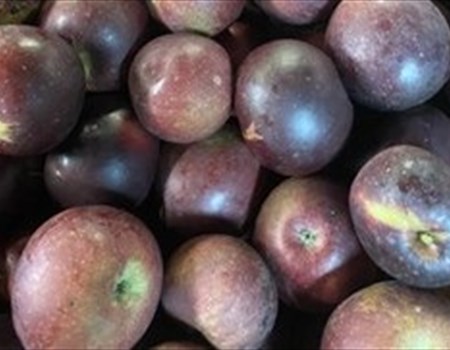 Sara McCutchen, CSA Coordinator for Agriberry Farm, has generously shared this recipe for use by our members. There are plenty of great apples at their farm, but if you can't make it out there, you can find them on our pages, too! We'll deliver on Thursday, of course.

Choose a sweet apple for best results with this recipe: Honeycrisp, Gold Rush, Arkansas Black, Evercrisp, Snapdragon (a daughter apple to Honeycrisp), and Pink Lady would all work well. The rich cheese is perfect with the familiar sweetness of the fruit.

METHOD:

1. Cut each strip of thick sliced bacon into 4 equal parts (hint: I love using kitchen scissors to cut bacon.) Fry the strips until they are crispy.


2. Cut the apple into slices and remove the core. Once sliced, then toss them into a bowl with a bit of lemon juice and water to prevent browning.


3. Slice the Gouda (or a similar cheese) into portions that will fit onto the apples.


4. To assemble, place apple slices on plate, top with cheese, then bacon, then drizzle with honey and sprinkle with finely chopped fresh rosemary.


Crispy bacon and apple, with creamy, rich cheese in between--you'll love this!


MEMBER SHOPPING SUGGESTIONS: Check our FLF&LR pages for bacon, as our producers stock the best around when they have it. If you don't find bacon, try the Terra di Siena page for pancetta and rock this with a little Italian flair! You can also find some beautiful rich cheeses on our pages, with the right kind of flavor to complement the apples. Check both Caromont Farm and Twenty Paces. Read the descriptions to find something rich and delicious—maybe with a little age on it. Rosemary should be easy to find, since so many of our folks sell it year-round.


Visit the Agriberry page to choose your apples!

Published: 01/15/2021
Pullet Eggs: A Local Gourmand's Delight!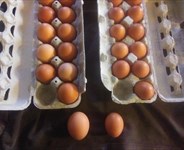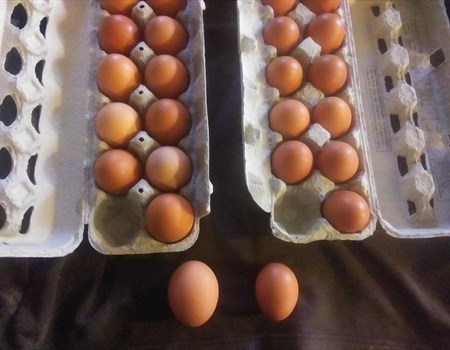 Since our members tend to be food-curious, green, and adventurous in the kitchen, we knew you'd want to know about these little treasures.


This week and for the next couple of weeks, the youngest hens (pullets) at Thistledowne Farm will be laying some special eggs. They're a little smaller than what you may be used to, as illustrated by the eggs on the right in the picture above.


Chicken farmers like Christy Callas at Thistledowne Farm know the joy of eating pullet eggs, which are the first-ever eggs laid by "teenage" hens. Pullets are hens about 18 weeks old. They lay eggs that are smaller than what folks may be used to finding in a carton, but what these eggs lack in size, they more than make up for in richness and flavor! Pullet eggs are usually a little light on the whites and heavy on the yolks, hence the extra richness.


Pullet eggs are a rare treat. You'll find them on our list only when one of our egg producers is bringing new laying hens into the flock. They're well worth choosing as part of your market haul, but get them when you see them, because a hen will only lay these for about 4 weeks before maturing to the point where she lays regular-sized eggs. This week (and for the next two or three weeks) check the Thistledowne Farm page to find them. Once they're gone, they're gone.


So what do you do with a pullet egg? They're really wonderful for poaching, but you can use them for any other kind of egg dish you like or for baking. You simply have to adjust. For example, if you're baking and the recipe calls for two eggs, you might need to use three instead. If you usually scramble two eggs for breakfast, you will want to use three of the pullet eggs. You get the picture.


Stop the waste! It's kind of horrifying that, because they are too small to be "graded" in the commercial system, pullet eggs are often used in pourable egg products or other places where their special qualities are completely lost. Worse yet, they're often just discarded. Such a sad and needless waste!


Our farmers know that pullet eggs are a true treasure, and we wanted our members to be in on the secret, too. We know that you enjoy learning about the food you find on our pages, and we wanted you to be equipped to look for these delicious little nuggets of goodness and to understand why they're special!


Happy eating!

Published: 11/27/2020
New Options from Clean Conscience Chocolates!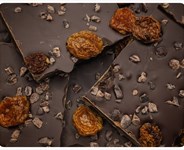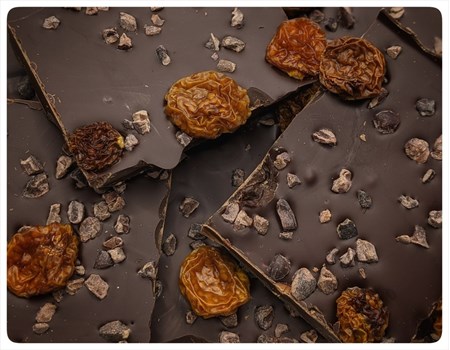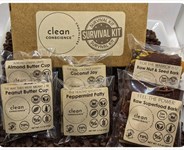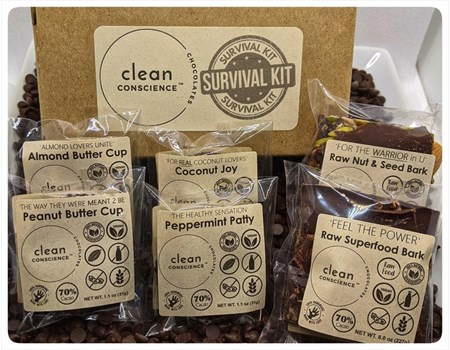 BTW--this chocolate is good for you!

by Steve and Mary Kennedy, Owners of Clean Conscience Chocolates

Clean Conscience Chocolates is excited to announce 2 new products available on Fall Line Farms & Local Roots starting this week.

The first is our Raw Superfood Bark. Following the success of our Nut & Seed Bark, we decided to create a bark for those truly hardcore dark chocolate lovers. So we start with a thick layer of our 70% raw dark chocolate, then sprinkle it with a mix of raw goldenberries (a.k.a. cape gooseberries or Peruvian groundcherries) and cacao nibs (the purest form of chocolate) to create a very unique and carefully blended taste. Widely respected in the Ayurvedic world, goldenberries and cacao nibs are known as some of the most nutrient-dense superfoods available, along with cacao.

The second new option, designed to help our customers sustain their Clean Conscience fix during these trying times, is our latest boxed set – the Clean Conscience Survival Kit. Our Survival Kit has 1 each of all of our individually wrapped products: Peanut Butter Cup, Almond Butter Cup, Coconut Joy, Peppermint Patty, Raw Nut & Seed Bark and Raw Superfood Bark - for a total of 6 items. And as with all of our packaging and boxes, its Clean & Green!

Dark chocolate is very nutritious--rich in fiber, iron, magnesium, potassium, phosphorus, zinc and selenium--including all of the superfood properties of Cacao.

Dark chocolate has many proven health and anti-aging benefits including:

improved heart and overall health benefits. It's a powerful source of antioxidants and is particularly high in flavonoids and polyphenols, which provide protection against disease-causing free radicals. Plus, the cocoa butter found in dark chocolate contains healthy saturated fats (the same as found in olive oil). The impact is that dark chocolate:

--helps your body reduce inflammation

--protects cells from free radicals

--lowers blood pressure

--increases 'good' HDL cholesterol, and

--reduces the effects of the 'bad' LDL cholesterol by preventing its oxidation.

Along with these benefits comes improved brain health and happiness! Besides increasing blood flow to the brain for improved cognitive and memory function, dark chocolate has been proven to affect your mood and mental attitude in various ways. It boosts the production of endorphins (the "feel good" chemicals in the brain), leading to a better sense of well-being--like a "runner's high." It's also a top dietary source of tryptophan, an amino acid precursor to serotonin, the neurotransmitter of happiness and positive mood. It acts as an anti-depressant and is known to help reduce pain and diminish the negative effects of stress.
Finally, dark chocolate contains phenylethylamine, a compound called the "love drug" because it creates a brain buzz similar to being in love. This, combined with theobromine, another compound found in chocolate that's related to caffeine, makes chocolate a mild aphrodisiac, and also means that it can help prevent depression.

And did you know that another proven benefit is gut health? Dark chocolate contains prebiotics– meaning it increases the beneficial bacteria in your intestines. It helps to keep the good bacteria levels high and bad bacteria in check.

So feel free to INDULGE without the guilt…and to treat your friends, too!

EDITOR'S NOTES: We carry most of the products made by Clean Conscience Chocolates. You can find them at https://preview.tinyurl.com/y6nlvt6k

To view learn more about this amazing little company, please read the new producer profile that we published in April, 2020: https://tinyurl.com/y33mvgja

We're sorry that we're unable to sell the CBD-infused products from Clean Conscience Chocolates right now (NOT our choice!). We're working to resolve this and hope to list them again soon. In the meantime, you can find them on Etsy: https://www.etsy.com/shop/MyChocolateShoppe

If you're interested in learning more about the studies cited in this entry, contact us and we'll ask Clean Conscience Chocolates to send you the information they use to substantiate their claims. All claims made in this article here are those of the authors.

Published: 10/30/2020
The QuaranThyme: A Cocktail (or Mocktail) From Red Root & Co.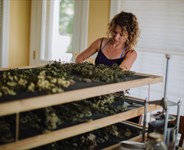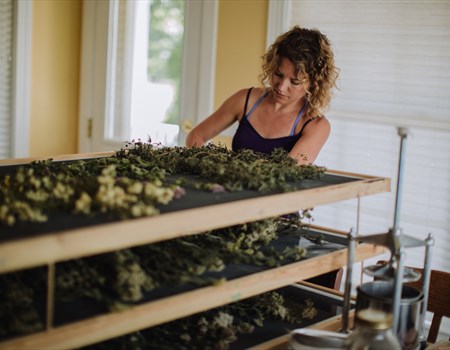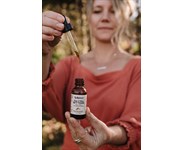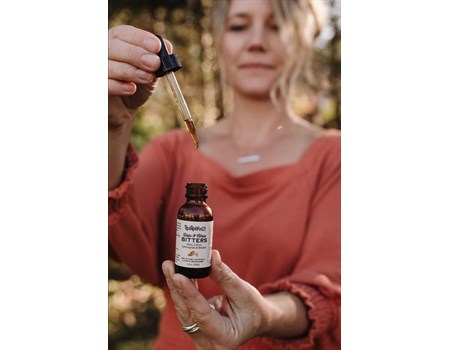 Corey MacDonald, founder of Red Root & Co., shares this refreshing recipe that will take the edge off of being cooped up under quarantine. She received it from one of her customers, and now she's sharing it with us.

Red Root & Co.'s QuaranThyme Recipe:

Ingredients

2oz Tequila (omit for alcohol free)
1.5 ounce RR&Co Ginger Apple Shrub
1.5 ounces fresh squeezed lemon Juice
1 ounce Thyme Simple Syrup (see instructions below)
Lemon seltzer

Instructions

In a shaker pour the first three ingredients. Add a few ice cubes. Shake. Prep a glass with ice and strain cocktail over the ice. Top with seltzer water. Garnish with thyme and lemon.

Thyme simple syrup:

¼ c water, ¼ c sugar, 1 tsp honey, 3 thyme sprigs
Heat water, sugar, and honey in a small saucepan until dissolved. Remove from heat, place a few thyme sprigs in warm mixture, cover for 30 minutes. Remove thyme from syrup. Strain, if needed, to remove leaves.

If you've very bought any of Red Root & Company's products, you'll know that they taste great. For Corey MacDonald, the founder and owner of this small Virginia operation, that's key. Proof of their deliciousness is that Red Root & Co. just won the Elixir category at the 2021 Good Food Awards.

Enjoy without guilt. Corey is careful to source responsibly, choosing locally and sustainably raised ingredients whenever possible, with a focus on organic methods.

Published: 02/27/2021
Bloody Brilliant: The Local Social Enterprise Behind Back Pocket Provisions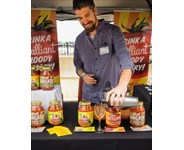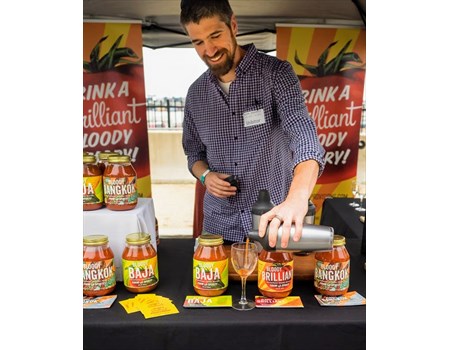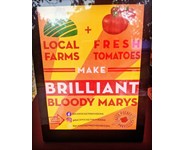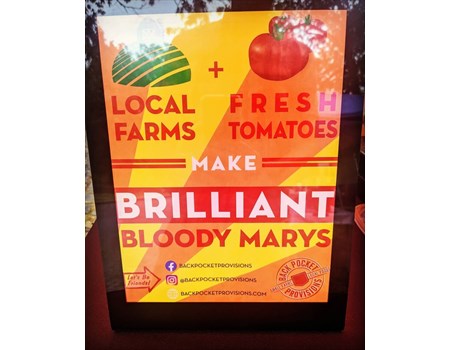 A NOTE FROM THE INTERVIEWER/AUTHOR

I know I've said this before, but it really bears repeating: one of the coolest parts of being me (Marketing and Promotions Director for Fall Line Farms and Local Roots) is that I get to interview our producers and talk to them about what they do, then introduce them to you. It never fails that after talking with every one of them, I've come away inspired, informed, and feeling very optimistic about the possibility of making local food an even larger part of the economic picture in our region. Together, we can preserve farms and make great food even more widely available--just by enjoying it! Back Pocket Provisions serves as just the right kind of business model for bringing something delicious to consumers, while also providing critically important economic opportunity for tomato growers across the state of Virginia. And let's not discount the fact that, in creating such a tasty line of Bloody Mary mixes, Back Pocket Provisions is winning converts to local food all of the time just because of the taste!

In this interview, I spoke with Will Gray, the CEO of this impressive social enterprise. I hear you asking already: "Social enterprise? What is that? Read on and you'll learn the definition, plus a lot of other cool things about Will, Back Pocket, and how this product's benefits go well beyond just the enjoyment of a wonderful drink.

THE INTERVIEW

Katie: Thank you so much for talking with me today, Will! I know our members will be excited to learn more about your product, which they already seem to be enjoying without even knowing the story—or should I say stories—behind it. Can we start with the name of the business: Back Pocket Provisions? Where did that come from?

Will: (Laughs.) Well, there isn't really too much of a story. Sometimes I like to say that we came up with the name because we source ugly tomatoes, so the farmers love keeping us in their back pockets! (Laughs.) And that's really part of it. But it actually all started when I was first in D.C. and working as a private chef. Not a classically trained chef—just a proud line cook. I cooked professionally for number of years. I just love the alchemy of turning food into other food! Anyhow, I was doing some small event catering at the same time. It was a side hustle. Cooking—making food—was the skill that I kept in my "back pocket" while I was looking for work in the food system.

Katie: That's a better story than you think it is, actually: we love a company founded on inspiration and a love of good food! Can you tell me a little bit about the beginnings—who and what was involved in getting this off the ground, and who is involved now?

Will: My sister, Jennifer Beckman, worked with me early on. She's a longtime supporter and Bloody Mary drinker. She's also an attorney and an award-winning recipe writer. She helped us get up and running. Our current crew is small but mighty. Trey Corrin handles our back office work and manages markets in Charlottesville. Heidi Chaya works out of Front Royal; she's a content writer and digital marketing expert. She's the one collecting and presenting our farmers' stories. Kevin Zeithamlis based in Richmond, and he handles RVA-based events and in-store support. And COVID moved Sam Eldridge into our art and external-facing production from his home office in Upstate New York.
Katie: Well, you've come up with a great idea for reducing food waste and helping farmers make money. For example, you use "ugly tomatoes," meaning the tomatoes that taste delicious but may be misshapen or have other superficial flaws that keep them from being retail-worthy. I'm curious about those tomatoes and about how you achieve consistency in the taste of your product when you're sourcing different tomatoes from different farms. Do you even worry about that?

Will: I love that question! We definitely care about consistency in quality, because we want our customers to have an amazing craft cocktail experience. We want their reaction to be, "Wow! That's really fresh!" But guess what—if we make a batch that's 50% Hanover Slicers, then it's going to taste different from a batch that's 50% Cherokee Purple tomatoes. Different batches will definitely have a different taste. That's why we always say, "Shake before pouring. Appreciate subtle differences." The differences are a feature, not a flaw!

We've all spent a lot of time eating way over-processed tomatoes and products with exact scalability. For big companies, it's all about predictability of taste. Not ours. It's all about the tomatoes, and come on--they're different every season! Back Pocket Provisions' Bloody Mary mix won't taste the same every time you try it. That's just not how nature works. That's not how food works. Who would trade all the wonderful nuances of seasonality and flavor to make sure that the food is identical every time? If we're sourcing from Appalachian Sustainable Development, the tomatoes are going to taste different from those grown in RVA and Hanover. We go with what's great and what's in season. Terroir is the point of an heirloom tomato!

Katie: Can you talk a little bit about your product line and how you come up with the ideas for each delicious Bloody Mary mix? And please tell us more about your collaborative projects—like the Bloody Blue Ridge that you worked with Ian Boden of The Shack to make. Will you be doing more collaborations?

Will: [Bloody] Brilliant is our flagship, and that won't change. It's pretty much the classic. Bloody Baja was our second recipe, and it was kind of a sleeper favorite for us. What sets it apart is the corn juice and the texture. The smokiness and heat make it fun and different--different from most Bloody Marys that people have had. Maybe it's the bartender in me, but I think Baja is really fun for making cocktails. And Bloody Bangkok has that Asian flair. Great for making a distinctive Bloody!

Bloody Blue Ridge was a collaborative effort for us, as you pointed out. We came out with it last fall. Ian makes a fabulous ghost pepper and sorghum hot sauce, and Bridget Meagher of Catbird Sauce Company in Charlottesville makes the vegan Worcestershire that gives the mix its umami. And yes--it was such a great experience working with them that we have nothing but plans to do a whole series! Unfortunately, COVID-19 has kept us from being able to do it the same way we did with Blue Ridge, so nothing this year. But we're looking for other ways to collaborate. And we're doing another run of Blue Ridge, same recipe. We've just been blown away by the positive feedback.

We originally envisioned that we'd only do [the collaborative mixes] only once, but the response has been so good that we may just keep adding to the lineup. (Laughs.) Our entire life is a test kitchen right now. So, yes—we will do another collaboration, as soon as it's feasible.

Katie: When I first saw your mission statement ("Our mission is to make life more healthy, delicious, and fun by helping small farms succeed"), I just knew you were going to be a great match for FLF&LR. I hope our members will go to your website (link provided below) and read more about Back Pocket Provisions and the philosophy and thought behind it. So impressive! Can you talk a little about your inspiration for starting the business?

Will: Absolutely! I had been working in the local food system for about 12 years. I came to this as an eater. I love to eat and drink. They're two of the great passions of my life. I was lucky and had the opportunity to get into food service young. I spent time working in kitchens when I was in college in Charlottesville, and I became fascinated with the stories behind the food, the culture of the food—where it all comes from. I began to think about that, and I also began to notice how broken the American food system is. It became really clear to me that it was—and still is—very difficult to make a living as a farmer. I was privileged to grow up in a family who owned land. My father was a bit of a back-to-earth guy, a gentleman farmer. We grew up valuing food, growing it ourselves. Lots of gardening! As a ten-year-old, I didn't pay attention. Not yet. Then I kind of lived it through the restaurants where I worked. And it all eventually sunk in. Now I feel called not only to pay attention, but to take action to make things better for farmers.

Katie: Yes, And, in turn, for people who appreciate a good Bloody Mary and other great local foods and beverages, right?

Will: Right. The whole time I was working in food, I was thinking and learning. I worked for a while at The Rock Barn, a Nelson County farm-to-table catering company that pivoted into sustainable nose-to-tail hog processing. Later, I worked for a national food non-profit in D.C., The Wallace Center. It was at the Wallace Center that I began to see problems on a national scale. While I was still there, my sister and I launched Back Pocket Provisions as a side project. We feel so lucky to have been able to create this—something that practices local procurement and is useful to farmers. It was about a year and a half ago that I made the jump to full-time CEO.

Katie: On your website, you say, "Back Pocket Provisions is a social enterprise. That means that while we're a for-profit company, we make decisions about how we work based on furthering our mission, not just increasing our margin." I know that our members would be interested in knowing more about how that plays out in the way you do business. Tell me about that.

Will: We really are a for-profit social enterprise. We use the mechanism of capitalism and business, but rather than maximizing profit for shareholders, we try to optimize for social good. In our case, the social good is our mission. The problem that Back Pocket Provisions is trying to solve is that it's hard to have a successful life as a small farmer without compromising on certain values. We don't want our farmers to have to compromise, and we want them to make a good living. So we operate Back Pocket Provisions in a way that serves our farmers. We use the financial levers of the market, creating business that serves social good. We like to joke that we're unusual, because at Back Pocket, the customer comes second. Our products and our customers are our means—supporting a stronger food system is our end.

Katie: I can't tell you how much I have enjoyed talking with you, Will. And I can't tell you how pleased we are to be working with you. I hope you're enjoying the Fall Line Farms and Local Roots experience!

Will: We are really happy with it. Sales have exceeded our expectations. But I have to say that one of my favorite things about being part of this is the Thursday producer drop-off. I think it's such a great opportunity. In a business, it's so easy for everything to be so intellectual, but seeing this giant group of growers and makers going this way and that way every Thursday morning, exchanging fresh flowers and tomatoes and veggies and stuff—I have really enjoyed it. It's a great community-led effort to distribute community-made-and-grown goods.

Katie: Thank you so much for your time, Will. It's been a pleasure. And I can't wait to see what you come up with next!

Will: Thanks. I've enjoyed it, too.

ne last bit of local food wisdom from Will—a reminder of what seasonal eating is all about: "Eating locally is an ideological and political act, but it's also treating yourself. Rather than wanting to have everything all the time it's the opportunity to have the best things when they're available and at their best."


What can I say? The guy is, well, Bloody Brilliant!


Shop for Back Pocket Provisions on our FLF&LR buying pages:

Visit the Back Pocket Provisions website https://www.backpocketprovisions.com/ where you'll find information on their farmers and products and some wonderful recipes for cocktails and mocktails!

You can also find them on Facebook and Instagram at @backpocketprovisions.

Published: 10/02/2020
Producer Profile: Snowing in Space Coffee Company. Not the Usual!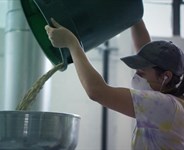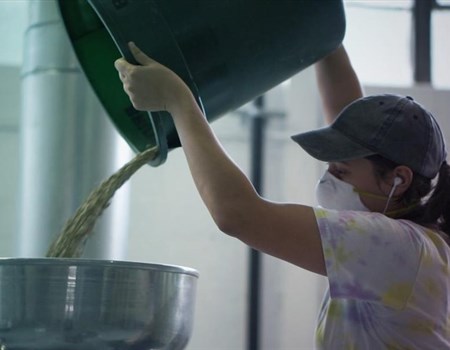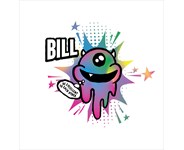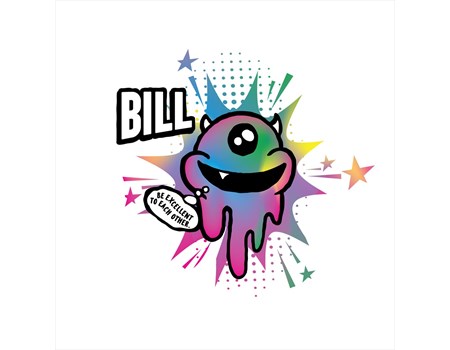 "We're a bunch of scrappy dudes," says Amber Slaughter, Assistant Roaster and Jill-of-All-Trades at Snowing in Space Coffee. "We run on a skeleton crew. We do everything differently. We're weird in a good way. Kids at heart, really. Our curiosity as a company never dies!"

You can hear the smile in her voice when Amber, an enthusiastic spokesperson for her employer, talks about what their small team has accomplished over the past three-plus years: "Snowing in Space was established in 2016 by two friends, Paul Dierkes and Joel Artz, who turned their new-found love of cold brew into a business. And thus, Snowing in Space Coffee began."

The two friends are film buffs, which shows up in a couple of interesting ways. First, there's the name of Snowing in Space Coffee. Laughing, Amber says, "These guys are all about all things Bill Murray. The phrase 'snowing in space' came from an obscure line in Groundhog Day when Bill Murray's character was trying to make a call from Punxsutawney, PA. He can't get a connection, and he is frustrated and wonders out loud if it's because it's snowing in space."

It turns out that these two scrappy dudes have also had some excellent adventures together, enjoying success along the way. (No wonder two of their coffees are named "Bill" and "Ted." )

"Joel is a graphic designer and web guy, and Paul is great at talking with people," Amber says. "They've worked together to build Snowing in Space, and it reflects their humor and their sense of fun."
Almost everything about this company is playful. Just take one look at the Snowing in Space Coffee website [link below], and you'll see the humor and creativity that Amber both admires and reflects. Mail order customers can choose the style of bags that they prefer. Hit the "Shop" button, and the lines that introduce you to the page are, "These bags don't match your shoes—only your level of rock 'em, sock 'em. From bantam to heavyweight, choose your preferred level of Kapow! and how dark you like your magic. Then choose which style—Creature or Rainbow—you want to greet on your doorstep."

The Snowing in Space Coffee website is entertainment in its own right. Seriously. Even the bags are quirky and fun!
"Joel is the creative director. You can see his influence in the packaging, which he has designed. We have three different kinds of bags: the metallic finish rainbow bags and the creature bags came first. Now there are the new puppet bags, which go along with the rainbow metallic theme."

Each of the coffees is named after one of the company's "caffeine creatures," each of whom has a backstory that's original to Snowing in Space. Even Bill and Ted, whose names are borrowed from the classic buddy film, have their own Snowing- in-Space-specific personalities.

"These caffeine creatures are definitely part of our brand", says Amber. "If you go on the website and scroll past the bags, you're introduced to the creatures and their bios. Big Blue comes off as a stoner who's oddly pretentious about jazz. Gimme Dat is a rambunctious kind of guy. Halfsies is a gal who's kinda all over the place. No telling how Joel and Paul came up with this stuff. Joel is just amazingly creative in a direction that no one else takes."

Amber began in sales, but her perfect fit with the sensibilities of the company soon led to her becoming Assistant Roaster and Head of Fulfillment, as well as being a self-declared Jill-of-all-trades: "I do whatever it takes," she declares cheerfully."You'll find me working on E-commerce, roasting—even on the canning line when that's what needs to be done. I learned to roast from Ericka, our head roaster. And that's just the coolest thing—we're an anomaly in the coffee industry. Ericka and I are both female roasters. There aren't many of us in Virginia. Actually, there aren't many of us, period."

So that's just one more charming and unexpected element of Snowing in Space Coffee.

Clearly, Snowing in Space is not your usual coffee company. Their website is a great example of how talented they are at drawing you in. You actually want to explore more and to read the whole thing because it's just so funny and interesting. It's a great mind-break during a pandemic, for sure. But for all the humor, you also see the seriousness with which the folks at Snowing in Space take the quality of the product they offer. All of the fun and creativity are for naught if the coffee's no good—and this coffee is really, really good.

Turns out that the scrappy dudes know what they're doing in choosing and roasting the beans, which are all certified fair trade and single-origin. They buy organically grown beans, and are working on the certification for that, too. Their practices certainly make them a good fit for the Fall Line farms and Local Roots producer lineup—not to mention the fact that our members love good coffee.

Our members can purchase this "supercool power fuel" in whole bean form on our pages, or in cans of nitro cold brew. Either way, they're sure to enjoy the experience of "refueliing their rad" with this "super-amazing power fuel."

Party on, dudes! Snowing in Space will provide just the right coffee for your excellent adventure.

*************************

To learn more about the caffeine creatures and to pick up the rad vibe of Snowing in Space Coffee , visit their website: www.snowinginspace.com.

You can also find them on social media: @snowinginspace.

Published: 09/11/2020
Peaches, Apples, and Family History: Drumheller's Orchard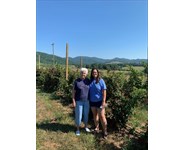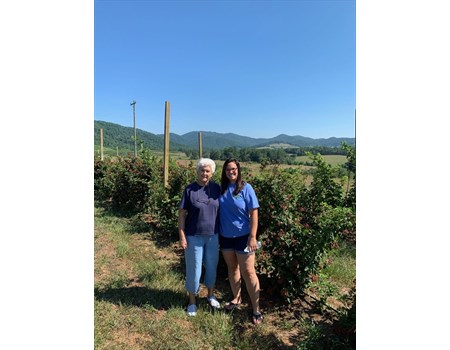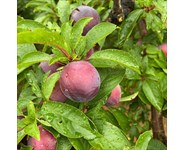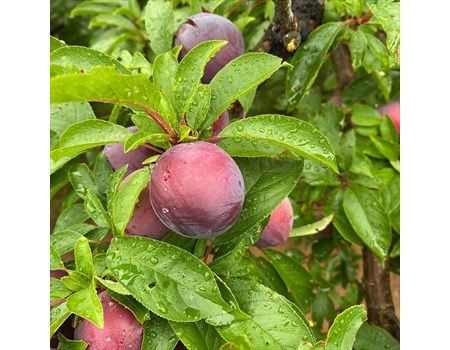 Oh, the taste of summer peaches and the crunch of a crisp fall apple! The Drumheller family knows these pleasures well, and they've worked for five generations now to bring them to you, too. We think they're a perfect fit for our Fall Line Farms and Local Roots community. They're a small local business, family owned and operated. They expand our offerings of seasonal fruits and they use that fruit as the basis for some wonderful handmade, small-batch, value-added products. (Have your tried the pluot jam? A revelation!) And like the rest of our FLF&LR community, Drumheller's Orchard is committed to the kind of collaboration and community that makes our non-profit local food market work to the advantage of others in Central Virginia's local food system.

Less than a hundred miles from Richmond, Drumheller's Orchard is just far enough away from RVA and has enough higher altitude for apples and peaches and pluots to thrive. Morgan Drumheller Johnston, a fourth-generation orchardist and the spokeperson for the business, is proud of what her family has accomplished and is excited about being connected with the other producers in the FLF&LR family.

"Dad (Kevin Drumheller) handles the orchards," explains Morgan. "I handle the berries. I'm getting ready to send tissue samples off to see how they're doing. That way, I can find out what they're lacking, what they need for balance. Our blueberry and blackberry patches were planted at the same time. They've done well. We offer pick-your-own berries only right now, but I want to plant a wholesale patch sometime soon. I'm always thinking about how to expand. We'll probably increase the size of our pick-your own operation and add wholesale at the same time. It's all about what our customers want!"

The Drumhellers have become quite good at figuring out what their customers need and want, and there's a lot of pride and joy for them in delivering it.

"When I was a kid, all I remember is working around the orchard with my family. We grew up helping out. That's why we have such a work ethic now," Morgan explains. "In the 1980s, we took out all of the peaches and grew apples only—five varieties. I was born in 1987, when Dad was 23. He and his two brothers worked here with my grandfather. Dad ran the orchard part of the business. My uncle worked here and ran the retail part. Back then, we also grew for grocery chains and packed the fruit to go off to grocery stores. That's not our business model anymore. We've stopped selling to grocery stores altogether now. We sell through the farm and other smaller outlets like FLF&LR, though there are beginning to be some 'local' sections in grocery stores again. Right now, we have 21 different varieties of apples. We carry a wide variety to accommodate canning, cooking sauce, cakes, and eating out of hand. It's all about meeting the needs of the people who support us."

This family business began in 1937, when E.O. and Eva Drumheller decided to take on an abandoned farm in Lovingston, Virginia and bring it back to life. They began pruning and caring for the fruit trees that had been untended for so long. In doing so, they mingled their own family's roots inextricably with those of the trees. Those roots have borne beautiful fruit, and we're not just talking about apples and pluots and peaches. Four additional generations of Drumhellers have lived on this property and run the family business ever since.

Laughing, Morgan shares a family story about her great-grandfather and the beginnings of Drumheller's Orchard.

"He didn't even know everything he had when he took on that farm," she says. "He was pruning trees on the farm he had just bought, and he had hired two local men to work with him. At the end of a long day, he made what he thought was the last cut. He looked at the men and said, 'Well, we're done.' They looked back at him and said, 'No, Mr. Drumheller. You have another side of the hollow to do.' Turns out there were about 500 more trees to prune!"

About her great-grandfather, Morgan says, "I didn't know him, but they say he was a firecracker. A joker, ornery and fun. I knew my great-grandmother, though. She passed away when I was 15. She was a very wholesome, humble lady. She never drove. She was a homemaker, made everything from scratch. I remember she used SunHigh peaches for preserves and pies. They were her favorites for that. She also loved to read. I loved spending time with her. We'd sit and watch The Sound of Music together. When my great-grandfather died, she decided to travel and went to Disney World. She was 89 when she passed away. She was a person you could go to with your problems. Calm, humble. I was lucky to have known her."
Doris Drumheller is Morgan's grandmother. "She's 80 and goes like she's 50," Morgan laughs. "She and my grandfather ran the orchard and inherited it when his parents passed away. I don't know what I'd do without her. She works just as hard as the rest of us!"

Right now, the hardworking crew at Drumheller's Orchard brings apples, peaches, and pluots for sale to our members. For those who care to take the beautiful drive to their gorgeous Lovingston property, all of these fruits are currently available in their farm store, and there are also u-pick blueberries and blackberries.

You never know when they might add some new varieties to their already impressive array.

"While we were selling to grocery stores, it was apples only," says Morgan. "We added peaches back about 20 years ago. We saw a need, and the peaches let us get back to our roots, back to how the orchard began. Now we have two very large peach blocks—all hand planted. There are about 500 trees per block. We added the pluots when we added the peaches. Then about 7 ½ years ago, we tried another large block of peaches, and we found the ones our customers preferred. Once we know what people like, we plant those in the larger blocks."

Nothing at the orchard goes to waste, and because they're good businesspeople, the Drumhellers understand the importance of value-added items that can be sold all year. Morgan says, "Our pluot jam is really great. We make it here in small batches. I made jam for my daughter with them, and she loved it. I use the variety of pluot that's green on the outside and purple on the inside. They're both tart and sweet, so they have a distinctive taste. This jam is great for a marinade on a roast or in salad dressing. It's also great on toast of course—or in a peanut butter & jelly sandwich."

Asked if she knew that she was destined to be a fruit maven, Morgan says, "Yes. It's all I've ever known. I grew up here, riding tractors, hooking up equipment. I've been on the farm with my dad almost my whole life. I worked here while I was in high school, but I made good grades the whole time. I also worked away from the farm for two, two and a half years. But I came back. This isn't an easy job, but what job is? It's just so gratifying knowing that you work with your family. My dad's my hero—my biggest inspiration for doing what I do. I'm really proud to be his daughter. Not too long ago, a guy came out to work on our refrigeration unit. He gave me the biggest compliment he could ever give me when he said, 'you're just like your dad.' I hope I am!"

At the same time, Morgan admits that life in the orchard isn't always, well, peachy: "There are some pretty hard times. I ask myself why we do what we do sometimes, meaning this family business. I've really mulled it over. It comes down to this: we do what we do for the people who appreciate the way we grow our fruit and the kinds of fruits we choose to grow. Like an older person who wants a really good piece of fruit, the kind that brings back memories for them. An older variety. We also do it for the people who appreciate knowing where their food is coming from. They're getting a really good quality piece of fruit, and they know what's behind it. It's really gratifying to help that family learn about the different varieties of each fruit and which is best for each purpose. I love knowing that they can come here if they want to and see where their fruit comes from. They can walk out back and see the orchard and the views. We love it when they want to visit!"

Along with directly connecting to visitors to the orchard, Morgan has come to appreciate what it means to be a member of a market like FLF&LR and our sister hub in the Williamsburg area, KelRae Farms: "I like knowing that we're in a community with a lot of other family farms and businesses, helping support each other."

It's clear that Morgan loves what she does. She loves the connection to her family and her customers. And though times can get tough, she considers it all worthwhile: "Mother Nature is a tough boss," she says. "You just have to have faith. You pray for the best, for good crops. You have to be positive, creative, and willing to take on any kind of situation whatsoever. You have to always look in front of you, never look back."

We're happy to have them aboard, strengthening the ability of our non-profit market to support rural culture and small farms by expanding our offerings of great local food, lovingly raised.

Learn more about this great business by visiting their website: www.drumhellersorchard.com.

Published: 08/21/2020