Tomahawk Steaks with Mushrooms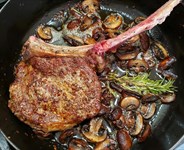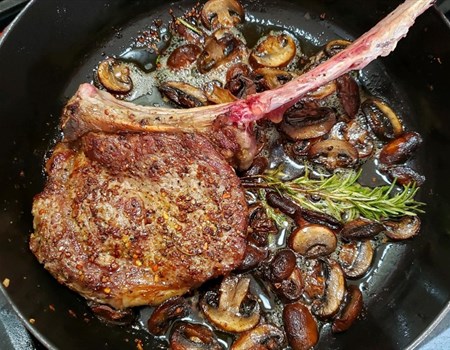 From Jil Davis at ThorneBrook Farms

Here's Jil's foolproof method for making the most of these eye-catching steaks. Great for a special occasion or date night!


Preheat oven to 375 degrees.


Rub steak with your favorite steak seasoning or rub and let sit at room temperature for about 30 minutes.


Heat a cast iron pan until hot and then turn the stove eye to low down to low. Add 1 stick of butter (yes, one whole stick), roughly 2 tbs olive oil, 1 lb sliced mushrooms, and a sprig of rosemary. Saute until mushrooms are slightly tender. They'll finish cooking in the oven later.


Push the pan contents to the sides of the pan to make room for the steak. Place steak in center of pan.

Sear steak for 7 minutes on the first side. Then flip it and cook for another 6 minutes. This browns both sides and creates a delicious crust on the meat.


Redistribute the mushrooms, butter mixture, and rosemary so it hugs the steak.


Place pan in the oven until internal temperature of the steak reaches 120-125 degrees, basting the meat a couple of times with the butter mixture during the cooking time.


Use a meat thermometer to keep checking the internal temperature of the steak. When it reaches 120-125 degrees, remove the steak from the oven and move it to a cutting board to rest for 15 minutes.


Carve & enjoy!

Published: 04/12/2021
Spinach, Lamb, and Feta Burgers à la ThorneBrook Farms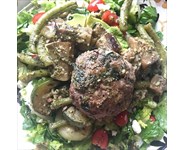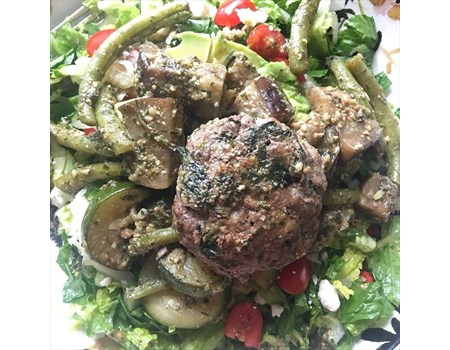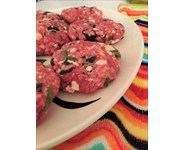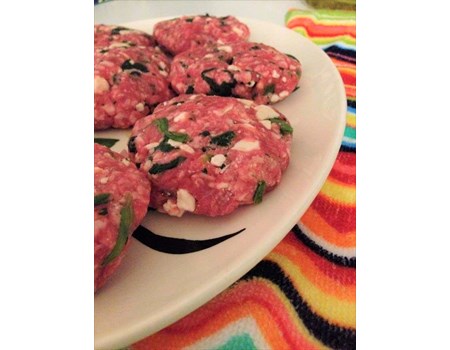 This recipe makes use of some seasonal spring items that are easy to find on our pages right now: lamb, spinach, and feta. Jil Davis of ThorneBrook Farms once again sends us a delicious idea for a dinner that's sure to delight.

Since we have these amazing local ingredients, it's easy to include them in your market haul and slip this recipe into your meal planning rotation. You can make the burgers and the sauce over the weekend and just pull them out to cook and enjoy on the designated evening. An easy, delicious weeknight meal!

You'll need:
· 1 lb of ground lamb
· Fresh or frozen spinach—about 8 oz.
· 8 oz. feta cheese (more or less, according to your taste)
· Salt and pepper

If you're using fresh spinach, you need to sauté it first to wilt it down a little. If you're using frozen spinach, put the frozen greens in a colander and let them thaw, then squeeze the water out of them with your hands. Use only a handful of the thawed, squeezed greens.

Once the spinach is ready, crumble the feta into a large bowl, add the spinach, and crumble the ground lamb into the bowl as well. Add salt and pepper. Toss with your hands until well mixed, then form into burgers and cook in a skillet or on the grill.

Not feeling the burgers? Spread the meat combo out on a sheet pan, put it in the oven, and bake until browned and sizzling. Then try one of these equally delicious ideas:

· Combine with fresh spinach and tzatziki sauce* in a pita pocket;
· Create a Mediterranean bowl with brown rice, pickled veg, arugula, and tzatziki;
· Use the burger or the meat mixture as a salad topper.

*Tzatziki sauce is easy to make. Shred cucumbers of any kind until you have about ½ a cup. Salt the shreds lightly, toss, and put them in a colander to drain while combining the other elements of the . Let them drain for at least 15 minutes. Combine 1 cup of plain Greek yogurt, some chopped dill, about a tablespoon of fresh lemon juice, pepper, and a crushed garlic clove. Squeeze the cucumber shreds with your fist to get most of the water out before adding to the yogurt mixture, then stir in. Adjust the sauce to your taste with the addition of more salt, lemon, dill, whatever. Eat right away, or better yet, let it sit in the fridge overnight so the flavors will meld.

Published: 03/16/2021
ThorneBrook Farms Oven-Baked Quesadillas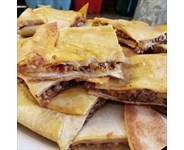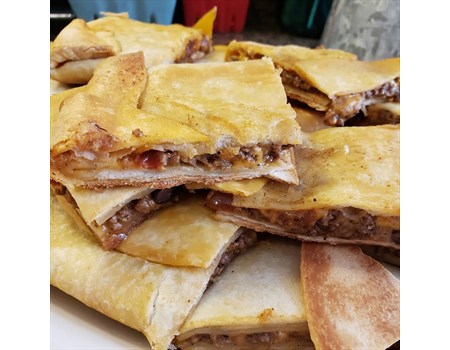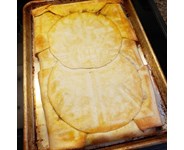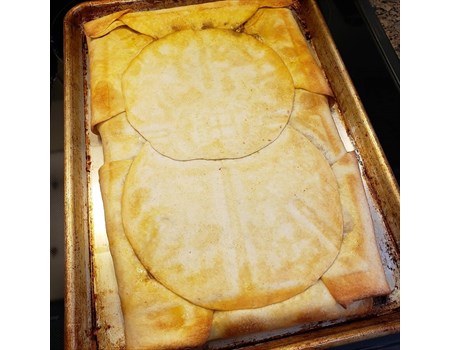 Jil and Brooks Davis raise grass-fed beef cattle in Goochland. They live on a farm in Cumberland County. Brooks is the farmer extraordinaire, and Jil is the PR and business manager--not to mention a fabulous cook. We're excited that she's shared this delicious quesadilla recipe with us, which is perfect for dispelling the February blahs. Thank you, Jil and Brooks, for all that you contribute to our community.

Jil based these quesadillas on a recipe from Ree Drummond (The Pioneer Woman), and put her own personal spin on it to make it extra delish! These beef quesadillas will really satisfy your family's hunger, and they are great warmed over, too. (Don't you love cook-once-eat-twice recipes? We sure do!)

Here's the "How-To":

If you're filling with meat, you'll want to prepare that first. This recipe used 1 pound of ThorneBrook Farms' grass-fed ground beef, flavored with taco seasoning and then browned. (Scroll down to the bottom for our easy taco seasoning recipe.) By the way--Jil says that this recipe is excellent made with a pound of their grass-fed chorizo, browned. No taco seasoning needed.)

Arrange the tortillas on a rimmed cookie sheet/jelly roll pan so that they overlap and cover the bottom, but so that they also hang over the sides.

Fill them up with your favorite fillings, including cheese, black beans, and salsa—whatever you crave in a quesadilla!

Fold the sides over the filling and then cover any gaps with more tortillas or a top layer. Brush the whole thing generously with butter and place another cookie sheet on top to press it down. Look how gorgeous this looks when it comes out of the oven!

Bake at 450 degrees for 20 minutes or so. Top with more salsa, chopped green onion, chopped tomato, sour cream—whatever you like best. Yummo!

This is an easy and quick weeknight dinner, and easy to work into your meal prep. The leftovers are also wonderful warmed up.

Don't just take our word that Jil is a whiz in the kitchen! Follow ThorneBrook Farms on social media (@thornebrookfarmsva) if you're interested in learning more about grass-fed beef raised the right way, or if you love eloquently written insights into farm life. You'll also love this page if are on the search for recipes that give you great ideas for using this wonderful beef, which we're proud to offer through our non-profit online market. You can find their grass-fed beef here: https://flflr.luluslocalfood.com/Shopping/Search?CategoryId=&ProducerId=9474&SearchTerm=.




HOMEMADE TACO SEASONING:
Taco seasoning is easy to make at home, and most people already have the ingredients in their spice cabinets. Just combine 1 tablespoon of Tbsp chili powder with 1 and a half teaspoons of garlic powder, a teaspoon of smoked or plain paprika, a teaspoon of cumin, 1/2 a teaspoon of either oregano or epazote, and a pinch each of salt and pepper. Adjust to your taste, and heat it up with your favorite red pepper flakes or some other spicy ground pepper.

Published: 02/22/2021
Agriberry's Raspberry Overnight Oats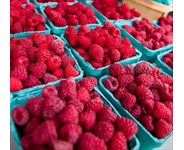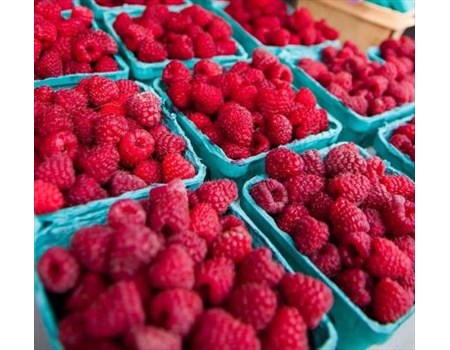 Many thanks for Sara, the CSA manager at Agriberry, for sharing this recipe with us!

Agriberry grows their raspberries locally and they pick them at the peak of freshness and flavor. You'll see them, just-picked, on our pages when they're in season. Lucky for us, some of them are frozen right out of the field so that we can have delicious local berries in the winter. Extra-added plus: they're good for you!


This is a great recipe for folks who like to take their breakfast with them to eat later. (It's great for lunch, too!)


TO MAKE THE OVERNIGHT RASPBERRY OATS:


Layer these ingredients in a wide-mouth Mason Jar:


· 1/2 cup old fashioned oats

· 1 tbs black chia seeds

· 3/4 mashed ripe banana

· 1/2 cup frozen raspberries

· 1/4 cup vanilla yogurt

· 1/2 cup unsweetened coconut milk


Mix the ingredients together, put a lid on the jar, and leave it in the fridge overnight or for several hours.


Enjoy!

SHOPPING SUGGESTIONS:

Of course, you'll want to order your raspberries from Agriberry. And yes, we have no bananas. (They aren't local!) But we do have Good Health Herbs, which sells important pantry staples needed for this recipe, such as organic rolled oats.



TIPS AND TRICKS:

No vanilla yogurt? Use plain yogurt with a little honey or maple syrup and vanilla mixed in. (Honey and maple syrup are almost always available on our pages!)


No coconut milk? No problem! just substitute some local milk from Richlands Creamery! Oat milk and almond milk work fine, too.


Keep this recipe handy all year. Any frozen or fresh berries—or other juicy fruits, like sliced peaches—will work beautifully.


For a little extra crunch, chop some nuts and sprinkle on top right before eating. If you're feeling really decadent, add a few chocolate or carob chips.

Published: 01/29/2021
RECIPE: Agriberry's Apple, Cheese, and Bacon Bites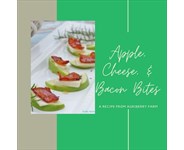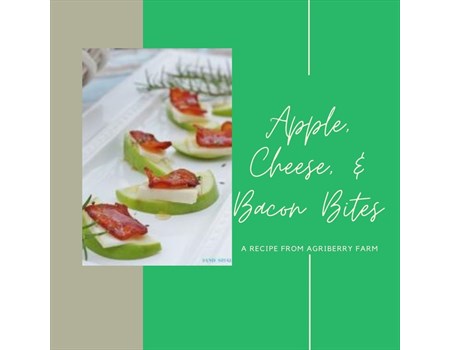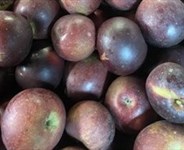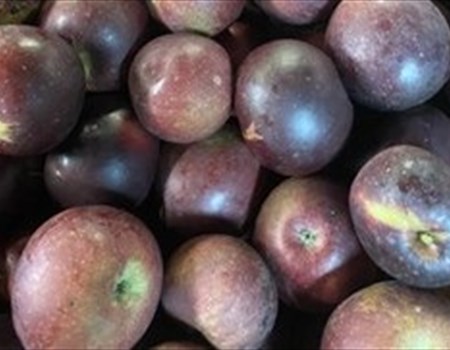 Sara McCutchen, CSA Coordinator for Agriberry Farm, has generously shared this recipe for use by our members. There are plenty of great apples at their farm, but if you can't make it out there, you can find them on our pages, too! We'll deliver on Thursday, of course.

Choose a sweet apple for best results with this recipe: Honeycrisp, Gold Rush, Arkansas Black, Evercrisp, Snapdragon (a daughter apple to Honeycrisp), and Pink Lady would all work well. The rich cheese is perfect with the familiar sweetness of the fruit.

METHOD:

1. Cut each strip of thick sliced bacon into 4 equal parts (hint: I love using kitchen scissors to cut bacon.) Fry the strips until they are crispy.


2. Cut the apple into slices and remove the core. Once sliced, then toss them into a bowl with a bit of lemon juice and water to prevent browning.


3. Slice the Gouda (or a similar cheese) into portions that will fit onto the apples.


4. To assemble, place apple slices on plate, top with cheese, then bacon, then drizzle with honey and sprinkle with finely chopped fresh rosemary.


Crispy bacon and apple, with creamy, rich cheese in between--you'll love this!


MEMBER SHOPPING SUGGESTIONS: Check our FLF&LR pages for bacon, as our producers stock the best around when they have it. If you don't find bacon, try the Terra di Siena page for pancetta and rock this with a little Italian flair! You can also find some beautiful rich cheeses on our pages, with the right kind of flavor to complement the apples. Check both Caromont Farm and Twenty Paces. Read the descriptions to find something rich and delicious—maybe with a little age on it. Rosemary should be easy to find, since so many of our folks sell it year-round.


Visit the Agriberry page to choose your apples!

Published: 01/15/2021
Pullet Eggs: A Local Gourmand's Delight!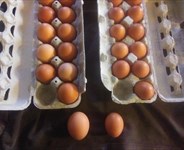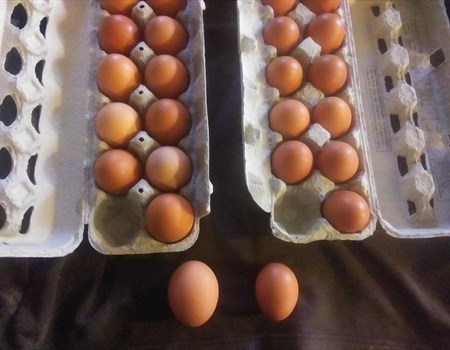 Since our members tend to be food-curious, green, and adventurous in the kitchen, we knew you'd want to know about these little treasures.


This week and for the next couple of weeks, the youngest hens (pullets) at Thistledowne Farm will be laying some special eggs. They're a little smaller than what you may be used to, as illustrated by the eggs on the right in the picture above.


Chicken farmers like Christy Callas at Thistledowne Farm know the joy of eating pullet eggs, which are the first-ever eggs laid by "teenage" hens. Pullets are hens about 18 weeks old. They lay eggs that are smaller than what folks may be used to finding in a carton, but what these eggs lack in size, they more than make up for in richness and flavor! Pullet eggs are usually a little light on the whites and heavy on the yolks, hence the extra richness.


Pullet eggs are a rare treat. You'll find them on our list only when one of our egg producers is bringing new laying hens into the flock. They're well worth choosing as part of your market haul, but get them when you see them, because a hen will only lay these for about 4 weeks before maturing to the point where she lays regular-sized eggs. This week (and for the next two or three weeks) check the Thistledowne Farm page to find them. Once they're gone, they're gone.


So what do you do with a pullet egg? They're really wonderful for poaching, but you can use them for any other kind of egg dish you like or for baking. You simply have to adjust. For example, if you're baking and the recipe calls for two eggs, you might need to use three instead. If you usually scramble two eggs for breakfast, you will want to use three of the pullet eggs. You get the picture.


Stop the waste! It's kind of horrifying that, because they are too small to be "graded" in the commercial system, pullet eggs are often used in pourable egg products or other places where their special qualities are completely lost. Worse yet, they're often just discarded. Such a sad and needless waste!


Our farmers know that pullet eggs are a true treasure, and we wanted our members to be in on the secret, too. We know that you enjoy learning about the food you find on our pages, and we wanted you to be equipped to look for these delicious little nuggets of goodness and to understand why they're special!


Happy eating!

Published: 11/27/2020
New Options from Clean Conscience Chocolates!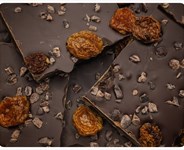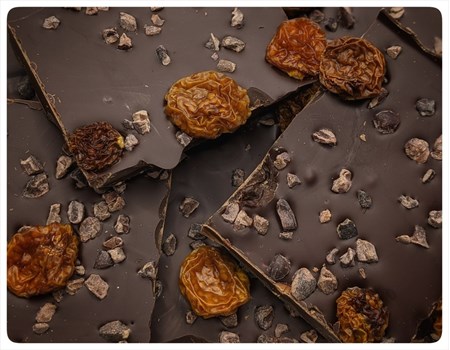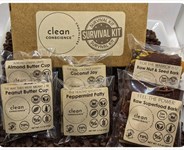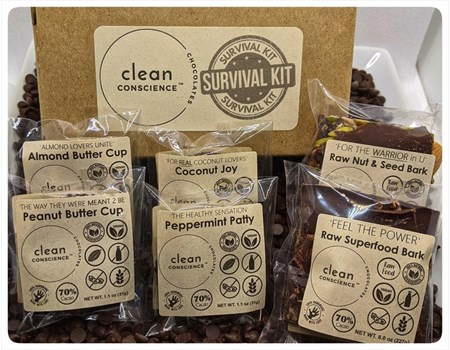 BTW--this chocolate is good for you!

by Steve and Mary Kennedy, Owners of Clean Conscience Chocolates

Clean Conscience Chocolates is excited to announce 2 new products available on Fall Line Farms & Local Roots starting this week.

The first is our Raw Superfood Bark. Following the success of our Nut & Seed Bark, we decided to create a bark for those truly hardcore dark chocolate lovers. So we start with a thick layer of our 70% raw dark chocolate, then sprinkle it with a mix of raw goldenberries (a.k.a. cape gooseberries or Peruvian groundcherries) and cacao nibs (the purest form of chocolate) to create a very unique and carefully blended taste. Widely respected in the Ayurvedic world, goldenberries and cacao nibs are known as some of the most nutrient-dense superfoods available, along with cacao.

The second new option, designed to help our customers sustain their Clean Conscience fix during these trying times, is our latest boxed set – the Clean Conscience Survival Kit. Our Survival Kit has 1 each of all of our individually wrapped products: Peanut Butter Cup, Almond Butter Cup, Coconut Joy, Peppermint Patty, Raw Nut & Seed Bark and Raw Superfood Bark - for a total of 6 items. And as with all of our packaging and boxes, its Clean & Green!

Dark chocolate is very nutritious--rich in fiber, iron, magnesium, potassium, phosphorus, zinc and selenium--including all of the superfood properties of Cacao.

Dark chocolate has many proven health and anti-aging benefits including:

improved heart and overall health benefits. It's a powerful source of antioxidants and is particularly high in flavonoids and polyphenols, which provide protection against disease-causing free radicals. Plus, the cocoa butter found in dark chocolate contains healthy saturated fats (the same as found in olive oil). The impact is that dark chocolate:

--helps your body reduce inflammation

--protects cells from free radicals

--lowers blood pressure

--increases 'good' HDL cholesterol, and

--reduces the effects of the 'bad' LDL cholesterol by preventing its oxidation.

Along with these benefits comes improved brain health and happiness! Besides increasing blood flow to the brain for improved cognitive and memory function, dark chocolate has been proven to affect your mood and mental attitude in various ways. It boosts the production of endorphins (the "feel good" chemicals in the brain), leading to a better sense of well-being--like a "runner's high." It's also a top dietary source of tryptophan, an amino acid precursor to serotonin, the neurotransmitter of happiness and positive mood. It acts as an anti-depressant and is known to help reduce pain and diminish the negative effects of stress.
Finally, dark chocolate contains phenylethylamine, a compound called the "love drug" because it creates a brain buzz similar to being in love. This, combined with theobromine, another compound found in chocolate that's related to caffeine, makes chocolate a mild aphrodisiac, and also means that it can help prevent depression.

And did you know that another proven benefit is gut health? Dark chocolate contains prebiotics– meaning it increases the beneficial bacteria in your intestines. It helps to keep the good bacteria levels high and bad bacteria in check.

So feel free to INDULGE without the guilt…and to treat your friends, too!

EDITOR'S NOTES: We carry most of the products made by Clean Conscience Chocolates. You can find them at https://preview.tinyurl.com/y6nlvt6k

To view learn more about this amazing little company, please read the new producer profile that we published in April, 2020: https://tinyurl.com/y33mvgja

We're sorry that we're unable to sell the CBD-infused products from Clean Conscience Chocolates right now (NOT our choice!). We're working to resolve this and hope to list them again soon. In the meantime, you can find them on Etsy: https://www.etsy.com/shop/MyChocolateShoppe

If you're interested in learning more about the studies cited in this entry, contact us and we'll ask Clean Conscience Chocolates to send you the information they use to substantiate their claims. All claims made in this article here are those of the authors.

Published: 10/30/2020
Help Us Keep Our Cool (Literally)!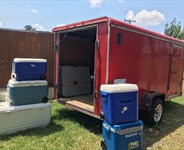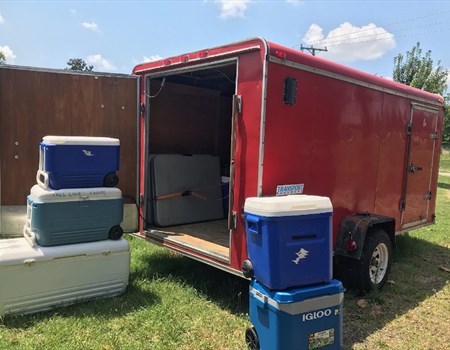 Fall Line Farms & Local Root is feeling the heat on Thursdays. We need coolers and ice blocks. Our non-profit market needs your help!

If there's one thing our community appreciates, it's fresh food. That's why we don't warehouse anything that comes in your Thursday order. Your food and other items come straight from the farmers and makers, who get together Thursday morning to make sure that your market haul is in your hands by that afternoon. But keeping everything cool is a challenge in July, August, and September. Our community has grown. More orders are coming in, so now we need more coolers and ice blocks to keep the produce and frozen foods in great shape for you.

We're calling on our community for some help footing the bill with this expense, which is a key factor in keeping our non-profit market running as usual. No donation is too small! If you're interested in helping us with our goal of acquiring 8-10 new coolers here's what you can do:

1. Donate a cooler.

Used coolers are fine, but they need to be pretty large. If you have a cooler that you might want to donate, please let Alex (our Market Manager) or Mandy (our Operations Assistant) know. You can email and they'll help determine whether it's big enough and how to make it easy for you to get the cooler to us. Use the email address admin@centerforruralculture.org.

To give you an idea of what kinds of coolers we are hoping to get, here are a couple of links to ones like what we're hoping to acquire: https://tinyurl.com/yyrvettw (smaller version) or https://tinyurl.com/5ftr2ee5 (larger version). Again, you can email Alex and Mandy at admin@centerforruralculture.org and they'll let you know where to deliver your cooler--no matter where you purchase it.
2. Donate money toward purchases of coolers. One advantage to the coolers shown in the links above is that we can buy replacement parts for them so that Alex can repair them when they (inevitably) suffer wear and tear. Donating money is another great option, and every little bit will help us! We'll just pool what you send us and purchase what we need.


You can donate money to this "Cool Drive" by following this link: https://www.centerforruralculture.org/get-involved .

Click on the orange "online" block and it will take you to our PayPal page.

Be sure to put "cooler campaign" in the "Notes" section so we'll know where to apply your donation.

Accept our gratitude. We all appreciate your help!

Published: 07/23/2021
Crispy Seasoned Chicken Leg Quarters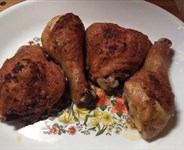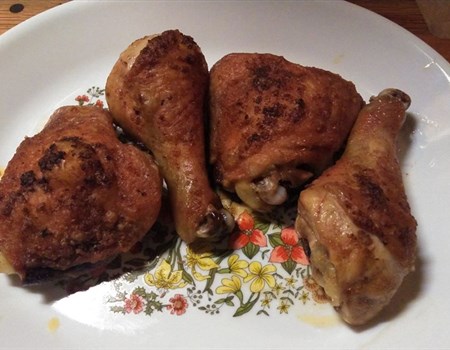 Everyone loves having a go-to recipe for something seriously delicious but not too fussy. This one-dish recipe, adapted from Food.com, is excellent because it offers a basic method for cooking up a delectable batch of yummy chicken leg quarters. You can use the spices that we suggest here or come up with your own blends. Change them up to suit your mood!


We're featuring pasture-raised poultry from Peacemeal Farm for this ordering period (June 11-14. 2021). They are restocking, and there are plenty of leg quarters on their page!


We imagine this meal with accompaniments of a fresh, crisp salad or some steamed vegetables, and some freshly baked bread. And don't forget dessert! We've included shopping suggestions at the end of the recipe, and you can find almost everything you need on Fall Line Farms and Local Roots!


You'll need:


· 4 skin-on Peacemeal Farm chicken leg quarters, bone-in

· Soy sauce: about ½ a cup

· garlic powder

· seasoning salt

· dill weed

· OR come up with your own spice blend and use it! You'll want about a teaspoon of each spice to start. You can also use one of the fresh herb blends from Manakintowne Specialty Growers or Liberty Tree Farm and tuck them up under the skin in place of what we've suggested here. Fresh green garlic and garlic scapes are wonderous things on chicken! Bibb Forest Farm has scapes this week.



Here's How to Make It All Happen:


Preheat your oven to 375 degrees. Place a rack in the middle position.


Line a 9 X 13 baking dish with foil. (Food.com suggests also using a rack if you like your chicken to be as crispy as possible.)


DON'T REMOVE THE SKIN from the chicken! You need it for the flavor and texture you're going for. But you need to get the soy sauce and spices up under it, so detach it enough so that you can expose the surface of the meat, but leave it attached in strategic spots. (You'll lay it back down over the meat after rubbingin the spices and cooking.)


Brush the meat with the soy sauce, then sprinkle with about ½ of the seasoning mix you have chosen. Rub it lightly into the surface of the chicken leg quarter, then pull the skin back over the meat.


Put the chicken pieces in the pan or on the rack skin side up, leaving a few inches between them. Sprinkle the skin with about the same amount of the spice mix that you used underneath.


Bake uncovered for about an hour, then raise the oven temperature to 400 and bake for about another 15 minutes. (Larger quarters may take just a little longer. You know they're done when you insert a meat thermometer in the thickest section of the meat. Remember not to touch the bone! At 165 degrees F, it's done.


Let the chicken rest for 5 minutes or so, then tuck in!


SHOP!


Peacemeal Farm has chicken leg quarters. If they're sold out, check Salt & Pepper Farm.


You can find salad fixings and veggies by searching under "Fruit and Produce."


Broadfork Farm and Great Harvest Bread Company have freshly baked bread, and Craft Bakehouse usually has some kind of wonderful savory biscuit.


Dont forget DESSERT!


· Truly Scrumptious/Leek & Thistle

· Craft Bakehouse

· Great Harvest Bread Company

· Salsas Don Sebastian

· Favour Cookie Company

· My Empanada

· Curds & Whey RVA

· Misty Morning Sunrise Farm

Published: 06/11/2021
The QuaranThyme: A Cocktail (or Mocktail) From Red Root & Co.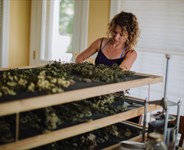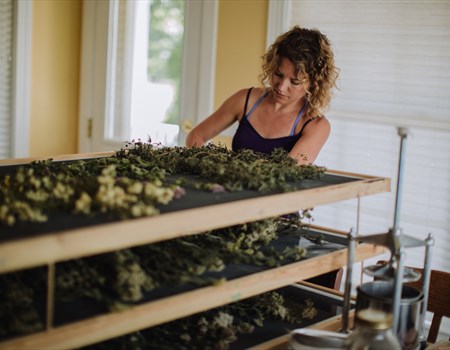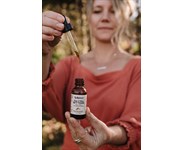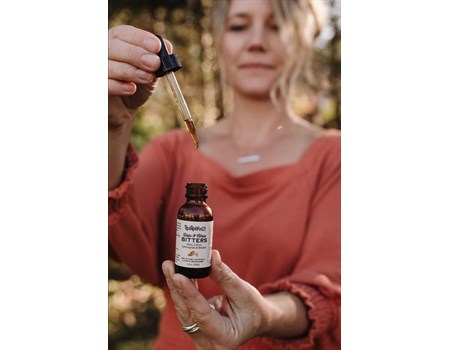 Corey MacDonald, founder of Red Root & Co., shares this refreshing recipe that will take the edge off of being cooped up under quarantine. She received it from one of her customers, and now she's sharing it with us.

Red Root & Co.'s QuaranThyme Recipe:

Ingredients

2oz Tequila (omit for alcohol free)
1.5 ounce RR&Co Ginger Apple Shrub
1.5 ounces fresh squeezed lemon Juice
1 ounce Thyme Simple Syrup (see instructions below)
Lemon seltzer

Instructions

In a shaker pour the first three ingredients. Add a few ice cubes. Shake. Prep a glass with ice and strain cocktail over the ice. Top with seltzer water. Garnish with thyme and lemon.

Thyme simple syrup:

¼ c water, ¼ c sugar, 1 tsp honey, 3 thyme sprigs
Heat water, sugar, and honey in a small saucepan until dissolved. Remove from heat, place a few thyme sprigs in warm mixture, cover for 30 minutes. Remove thyme from syrup. Strain, if needed, to remove leaves.

If you've very bought any of Red Root & Company's products, you'll know that they taste great. For Corey MacDonald, the founder and owner of this small Virginia operation, that's key. Proof of their deliciousness is that Red Root & Co. just won the Elixir category at the 2021 Good Food Awards.

Enjoy without guilt. Corey is careful to source responsibly, choosing locally and sustainably raised ingredients whenever possible, with a focus on organic methods.

Published: 02/27/2021