Blog
Thanks to You, 2019 Was Terrific! A Letter from Our President.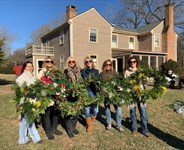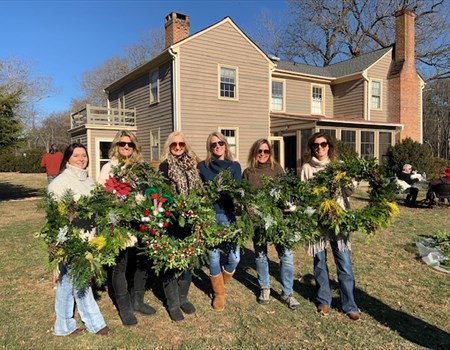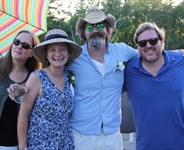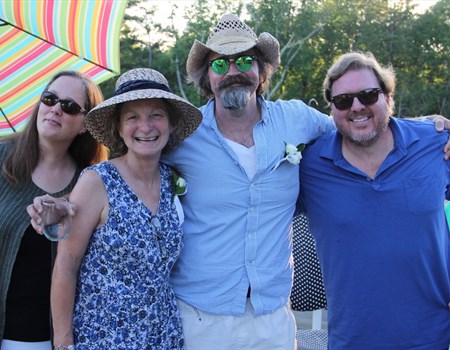 A YEAR OF ACCOMPLISHMENTS

2019 has been a year of growth and inspiration for our mission, and we are grateful for the support that you have provided. We have strengthened our connections with young people in our rural areas, grown the market share of our non-profit online farmers market, and continued to offer programs that educate the public about the importance of maintaining our rural culture and heritage. Along the way, we also enjoyed two sold-out fundraising events that were as enjoyable as they were productive. It was a good year, and we look forward to building on those successes in 2020.

WORKING WITH LOCAL YOUTH

This was a year of reconnection and expansion in working with rural students in Central Virginia. We continued our work with the Hand-to-Hand Program at Byrd Elementary School in Goochland. Every year, we contribute to this very worthy program. This year, with the help of Dave Booth, Culinary Arts teacher at Goochland High School, we expanded our programming to include the Culinary Arts classes at his school. The Center for Rural Culture provided tomatoes for their canning class through the Pounds of Plenty program, a feature of Fall Line Farms and Local Roots, our non-profit online farmers market. Pounds of Plenty allows members to give locally raised eggs and produce to food pantries near them. Our Marketing Director, Katie Hoffman, also visited Dave's classes on behalf of the CRC and spent a day teaching the students to ferment sauerkraut and talking with them about other traditional rural foods. We're excited that Dave has agreed to come on board as our Education Committee Chair, and we look forward to seeing what his leadership will bring in 2020.

FALL LINE FARMS AND LOCAL ROOTS:OUR NON-PROFIT ONLINE FARMERS MARKET

Fall Line Farms and Local Roots has done very well this year. True to our mission, we are supporting small farms in Central Virginia by providing a sales outlet for them that gives each farmer a greater financial return. According to our producers, selling through Fall Line Farms and Local Roots is financially advantageous in a number of ways, including decreasing waste. This market has a direct impact on preserving Central Virginia's rural landscape and culture by serving the small farms we all seek as neighbors. Having a dedicated Marketing and Promotions Director has also made a big difference in 2019. Sales for the market have been up over 20% so far this year. We have added several new producers and pick-up locations, and we have some exciting announcements coming in January, too! With your support, Fall Line Farms and Local Roots has engaged even more producers, customers, and farmers in the economic commerce that sustains the rural character of our neighborhoods. Thank you!

HOMESTEAD SERIES

The homestead series continues to educate the public on issues and practices that open minds to conserving natural resources and community engagement. Nationally acclaimed writer Max Watman joined us at Rassawek during the annual Spring Jubilee to offer readings from his books on local food and talk with the crowd. He also gave a Homestead Series program on making your own tinctures, shrubs, bitters, and infusions. Other Homestead Series classes included woodlot management and beekeeping.

AN INVITATION TO JOIN US IN 2020
Our board welcomes your support of our non-profit organization. If open space, local markets, sustainable living, and the natural environment are important to you, then we invite you to join us in 2020. Our goals are to increase market membership, broaden our Homestead Series topics and expand our education programs to reach more youth. Whatever your skills and experience, we welcome them! Come serve on a committee, volunteer for Fall Line Farms and Local Roots, or help with one of our events and classes. Of course, your financial support is equally important.



We wish all of our past and present members, supporters, and volunteers a happy holiday season and a prosperous 2020. Your generosity has allowed us to have a positive impact here in central Virginia. We look forward to working with you in the coming year!



Sincerely,

Catherine Fleischman

President of the Board

The Center for Rural Culture

Published: 01/03/2020
Simple Enough: A Recipe for Savory Whipped Squash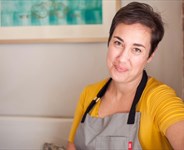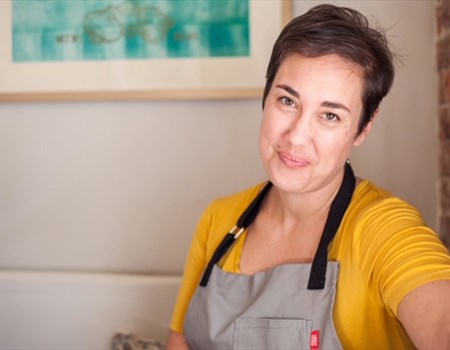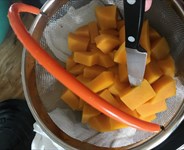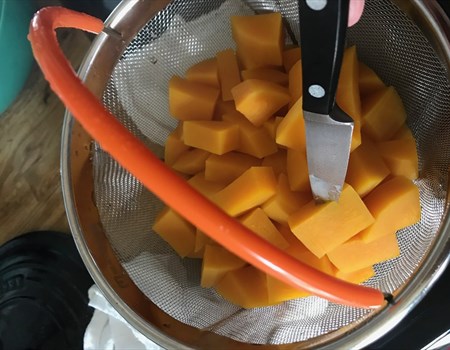 By Jenny Tremblay West

The nights slip in too quickly, and the chill in my old home has me in the kitchen with any excuse to turn on that stove. In the winter time we want hearty good food that doesn't require too much fuss but returns big flavor and warmth. My go-to is often squash, which to me is simple, but to a lot of my students is a task larger than they bargained for.

I teach folks how to cook, and if they learn nothing more than how to properly peel and chop something, I feel like they are in a better place than when they come to me. Prepping veggies and ingredients is the step that causes struggle, and having the proper tools helps enormously. A very sharp knife can do wonders for the home cook and is a must for cutting hard vegetables such as squash. A peeler that has a good blade—or even better, a serrated blade—will knock out the peeling part. If you hate peeling, you can always roast the squash.

This recipe for Savory Whipped Squash comes together very quickly after the squash is prepared. The last tool that this recipe uses is an immersion blender. If you don't have one, you can substitute a food processor or blender, or you can simply mash the squash by hand for a more textured dish. The immersion blender requires the least amount of washing, so it's my personal favorite. The notes of herbs and cream yield silky and complex results. This whipped squash is the perfect comfort food for a chilly night's dinner.

NOTES ON COOKING SQUASH:

If you choose butternut or another smooth-skinned vegetable, peeling is easy. If your squash is bumpy or has nooks, like an acorn squash, you may want to consider roasting and not peeling first. There are two easy ways to cook squash. Steaming or roasting. For this recipe we steamed in the instant pot.

Cut the bottom and top off with a very sharp knife. Use a good vegetable peeler to remove all of the exterior skin. Carefully cut the vegetables in half and scoop out any seeds in the cavity. Set the seeds aside if you choose to roast them. Cut the squash into large 2-inch pieces. Shape is not important, but you don't want huge pieces.

Steam: Use your stovetop steamer, microwave steamer, or instant pot. Times will vary. You can check stovetop or microwave after 8 minutes or so by inserting a sharp knife. If it is easy to insert with no force, then the squash is done. Cooking it in the instant pot requires a steaming rack or basket. Set it for 4 minutes on high pressure, 5 minute natural release.

Roasting: You can leave the skin on (remove the seeds) for roasting, or peel and cut as in the steaming method. On a roasting pan, drizzle a little vegetable oil and place the squash cut side down. Roast in a 400 °F oven for 40-60 minutes, depending on the size. Check for doneness by inserting a knife. If it goes in with no force and if it is easy to remove, then your squash is done. Remove it from the oven and scoop out the interior flesh for use.

SAVORY WHIPPED SQUASH
Serves 6

Ingredients:

4 cups roasted or steamed winter Squash (butternut, acorn, pumpkin or other winter variety) See cooking note

2 tablespoons unsalted butter

2 shallots, diced

2 garlic cloves, minced

2 teaspoon chopped fresh thyme leaves

2 teaspoon chopped fresh rosemary leaves

2 tablespoons grated Parmesan

¼ cup heavy cream, half and half or whole mil

Chopped flat leaf parsley for garnish, optional

Coarse salt and ground pepper



Directions:

In a large nonstick skillet, melt butter over medium. Add shallots and garlic and cook until softened and beginning to caramelize, about 8-12 minutes. Stir in thyme and rosemary and cook until fragrant, 1 minute. Add squash and toss to combine. Cook until warmed through. Stir in parsley and parmesan and season with salt and pepper. Add heavy cream. Pulse with an immersion blender until light and fluffy. Garnish with parsley or other chopped herbs if desired.

LEFTOVERS:

Squash pancakes: for every 2 cups of leftovers add one egg and about ¼ cup of all purpose flour. Mix well and allow to rest for 10 minutes. Heat a nonstick skillet over medium heat and add a pat of butter to the hot pan. Scoop about ¼ cup of batter at a time and press down lightly, frying for about 3-4 minutes or until crispy and browned slighly on that side. Flip and proceed with frying about 3 minutes more. Repeat until all done. Serve with sour cream.


Flatbreads: Toast a flatbread in a 425 °F oven for about 8 minutes. Spread leftover squash mixture on top and pop back into the oven for another 8 minutes or until warmed through. Top with a lightly dressed salad of arugula and spinach. To make the dressing, combine lemon juice, olive oil, salt, and chili flakes.

About Jenny: Jenny Tremblay grew up in the hospitality industry, learning from an early age the ins and outs of her family's mountain resort in Banff, Canada. This uncommon upbringing fueled a lifelong love of connecting with people, travel, and food. She attended culinary school at Dubrulle International Culinary Arts in Vancouver and jumped into a career that has taken many forms. She has found a calling in teaching others, utilizing her skills and knowledge she has learned over a lifetime. Trained as a pastry chef, baking is one of her favorite things to share with clients and friends. Her love of gardening and fresh produce plays a heavy hand in her cooking style.

Jenny's business, Kitchen Coach, teaches in-depth cooking lessons either privately or in small groups. She can also be found teaching public classes at Mise en Place and writing recipes for local publications. Jenny lives in Church hill, just east of downtown Richmond, Virginia with her husband and two boys.

Published: 12/06/2019
Turkey Stock - a beauty-enhancing, money-saving, gut-healing, flavor-exploding recipe!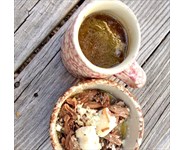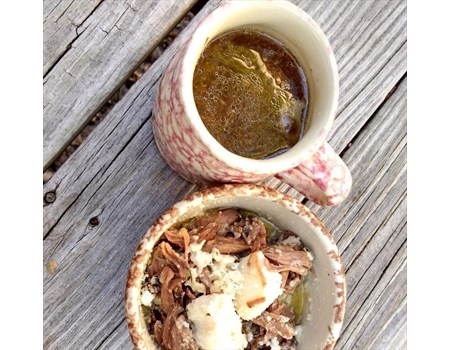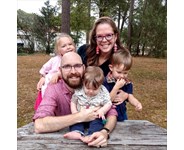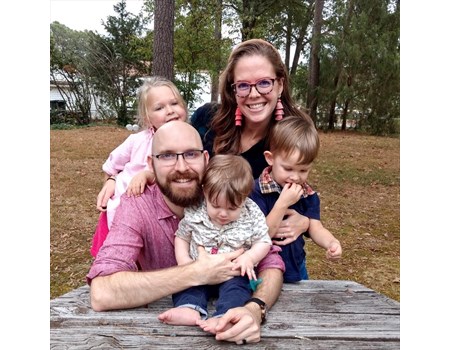 Thanksgiving is just around the corner, meaning that TURKEYS are in season! Yay! I love turkey stock. It is more robust in flavor than chicken stock, but not quite as intense as beef stock. It is perfect for drinking! Any time. Any meal. Any weather. :) This recipe can easily be adapted for any kind of poultry stock - chicken, duck, or turkey - or a combination. All of it would be delicious! You really can't go wrong.

I highly recommend getting your turkey or chicken from a pastured source. For sourcing the best quality, your best bet is finding a local farm, like the ones featured on Fall Line Farms and Local Roots! If you are buying from the grocery store, look for labels like "local" and "pasture-raised."

So be sure to save your turkey carcass from your Thanksgiving meal! I may just have a panic attack if anyone puts their turkey carcass in the trash...;)

INGREDIENTS

1 turkey carcass (4-5 lbs) or 2-3 chicken carcasses (backs and necks, 4-5lbs.)- I get mine from Mickey and Anne's Farmette from FLF&LR

2 lbs. chicken feet - I got mine from Peacemeal Farm from FLF&LR

3lbs. leftover beef bones, chuck roast bone, steak bones, empty marrow bones (optional)

2lbs. turkey/chicken necks (optional) - I got mine from Forrest Green Farm from FLF&LR

1 or 2 Onions

1 bulb crushed, fresh Garlic

Fresh or dried herbs - rosemary, thyme, sage, bay leaves

3 Tbs. celtic salt (or just add this at the end to taste)

1/4 - 1/3c. apple cider vinegar

2+ gallons filtered water (I use a Berkey to filter all my water)

2 carrots and 2 celery stalks - (optional) - only add these for the last 12 hours of cooking

bunch of fresh parsley (optional)- add this for the last 15 min

You will need a large stock pot for this -- I have a 15.5qt one and I LOVE it! I really like the "graniteware" stock pots because they are super safe and non-reactive - while also not breaking the bank! If you want to make a smaller batch, a cute little 8-quart stock pot would be perfect.

(Please do not use any kind of non-stick or aluminum or copper stock pots - they are very toxic and the metals and chemicals will leach out into your stock during the long cook time. Cast iron, speckled enamelware, and "graniteware" are all safe options.)

I like to make REALLY big batches of stock at a time. ;) You can make as much or as little stock as you want - the more carcasses/feet/bones, the more water you use. The fewer turkey parts you have, the less water you use. The general rule of thumb is for every pound of parts you use, use 1 quart of water.

10 STEPS FOR AWESOME TURKEY (OR CHICKEN) STOCK:


Step 1: Get a carcass!

Put the turkey or chicken carcasses, the chicken feet, the turkey/chicken necks, and the optional beef bones** in the stock pot. It is totally fine if they are still totally frozen solid - I do that all the time!! (**I also save any beef bones from our meals such as the bone from chuck roasts, steak bones, or empty marrow bones. I collect them in a bag in the freezer and then I like to throw these in with my poultry stock because it adds extra minerals and calcium from the bones, but they don't have a strong "beef" flavor since they have already been cooked once!)

Step 2: Let it soak.

Cover it all with filtered water and fill the stock pot. Add about 1/4-1/3 cup apple cider vinegar (this helps pull the nutrients out into the broth). Let it all soak for an hour or so until the turkey and chicken parts are thawed. (Sometimes I accidentally leave it longer, especially if it is frozen solid!)

Step 3: Bring it to a boil.

Put the stock pot on your stove and bring to a boil slowly over medium-high heat.

Step 4: Skim the foam.

When it begins to boil, the first thing to be released from the chicken are trace impurities which rise to the top and turn into a layer of weird-looking foam. This foam doesn't add any nutritional value and if left in the broth can add an off-flavor. You'll want to use a spoon or a small fine-mesh metal strainer to skim it off. I like to use a little one for skimming the foam off and a larger one for straining the stock when it is finished!

Step 5: Add the veggies and herbs.

Add some onions, garlic, peppercorns, herbs of choice, and Celtic sea salt (or you can add this to taste at the end as well). You can also add some carrots and celery, but don't add these till the last 6-12 hours of cooking or they will get a funny taste. If you want to add a big bunch of parsley for the last 15 min of cooking, that adds a really nice touch too! These days I just like to keep it simple: a bulb of crushed garlic, some big sprigs of fresh rosemary and thyme, and some Celtic salt is a beautiful combination! Don't worry about chopping things too precisely - you can just chop the onion into quarters and the garlic bulb in half - leaving the skins on and all. The carrots and celery can just be broken in half, and the sprigs of rosemary and thyme can all be thrown into the pot with no chopping at all!

Step 6: Turn it down!!

Once you have skimmed the foam and added herbs, cover and reduce to just *below* a simmer. You do not want it too hot. If it is too hot it will get a burned taste and the collagen will breakdown and not be as potent. Low and slow is the goal! Cover and let it cook for at least 24 hours. You can stir it every so often to help break up the carcass and help all the good stuff come out! Also, check on it every now and then to make sure it is NOT boiling.You want it barely at a simmer.

Step 7: Time to strain!

After a total of 24-36 hours, the stock is ready to be strained.All the turkey and chicken parts should be really broken down at this point, and the stock should be nice and dark and smell good! You will need a big metal strainer to strain into a saucepan or a quart-sized glass measuring cup. Here, I am using a middle-sized metal strainer along with a glass quart measuring cup.

Step 8: Seal It!

My favorite way to store the stock is in the refrigerator - "sealed" in Mason Jars. It's so much less hassle than freezing it and having to thaw it every time you need it. Pour the hot, strained stock into quart-sized wide-mouth mason jars.(Pro Tip: the trick is to pour the strained stock into the jars while it is still very warm and put the lids and bands on very tightly. I have found that this "seals" and preserves the stock in the refrigerator for up to a month!! If there is a delicious layer of fat on the top, it will even keep for longer!! If it was sealed correctly then the jar should "pop" when you open it. Just like when you open something that has been "canned.")

Make sure you use real Ball Mason jars - which are made for canning and can withstand high temperatures. :) After you jar up the stock, let them sit on the counter a minute before you put them in the refrigerator. If they cool too fast they could break.

To freeze: Pour the stock into plastic quart-sized "ziplock" containers and put in the freezer. (Glass tends to break when you freeze it, so after a few mishaps and wasted stock, I just recommend using plastic now.)

Step 9: get the jiggle?!

When you open a jar of your refrigerated stock, it should be really gelatinous! If it is, that means you did it right! If it is still watery, that could mean either that it was cooked on too high of a temperature or that there was too much water and not enough turkey/chicken parts. Keep tweaking it until you get "the jiggle!"

Step 10: Drink it daily!

I recommend drinking at least a mug a day. I sometimes drink a cup with each meal! Just re-heat the refrigerated stock in a small saucepan.

FEEDING IT TO KIDS

I drink stock daily with my dinner - probably around 2-3 cups of it. I feed it to my kids too - my 4-yr-old and 2-year-old both will drink it out of a sippy cup. sippy-cup And my 8-month-old old recently started drinking it out of a glass baby bottle. The older two also love to drink up the stock in their bowls using a kids' medicine syringe. It's kinda odd, but a genius way to get every last drop of stock in their bellies with no waste at all!

I like to top my stock with extra pink salt and eat it with a big spoonful of coconut cream concentrate. You could also top with some fresh parsley or cilantro and a squeeze of lemon or lime. Of course, you can use it in any recipes that call for chicken broth or stock. And you can create delicious soups and stews that will be sure to impress!

Let me know if you have any questions! I hope you enjoy!
~Sallie


Sallie runs a blog realfatlife.com and an active Instagram - you can find her @real.girls.eat.fat. For a more complete bio and an unedited version of this excellent blog entry,go to https://www.centerforruralculture.org/single-post/2019/11/24/Turkey-Stock.

Published: 11/25/2019
End-of-Season Fried Green Tomato Recipe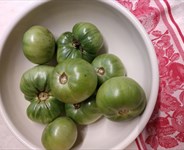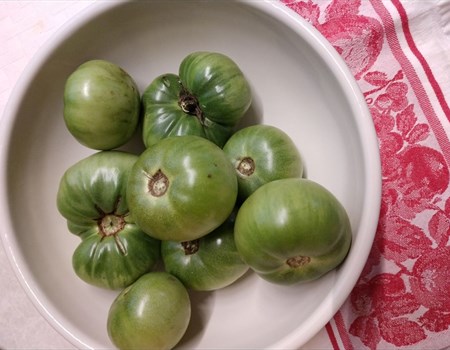 Oh, the crispy goodness of a fried green tomato! They're a bit of trouble, but worth it—and green tomatoes are still available on our list this week from Manakintowne Specialty Growers.

Here's how to get some great results.

PREP YOUR STATION:

Slice your green tomatoes about ¼" thick. Put this plate on the far right of your "assembly line."

Season some all-purpose flour with fine-grained salt and pepper. You can even add a little bit of granulated garlic or garlic powder for some pizzazz! Put this on a plate or small platter. Put it to the left of the tomatoes.

To the left of the seasoned flour, put some buttermilk in a shallow bowl for dipping.

To the left of that, put some coarsely-ground cornmeal on a plate or small platter.

Put your skillet on the stove to warm up, with a good splash of vegetable oil in it. Keep the heat at medium or below (depending on your stove) to prevent burning.

Put some butter near the stove so that you can put a little bit in with the vegetable oil once you begin to fry the coated tomatoes. The butter helps them brown.

START THE FRYING!

Once your skillet is ready (the oil should be shimmery and moving), you can begin.

Dredge a piece of tomato in the dry seasoned flour, coating well and tapping to remove the excess.

Dip it in the buttermilk, then coat it with the cornmeal. Put a tiny bit of butter in the oil, then put your tomato on the skillet. Let the tomato slices get crispy and brown on the bottom, then carefully flip them over with a spatula.

Once they are brown on both sides, set them on a paper-towel-lined plate to drain as the others cook. You can keep this in the oven to make sure they stay warm and crisp until you're ready to serve!


Eat them as is, top them with remoulade, or use them to top burgers. You can even make BLTs with crispy fried green tomatoes instead of the usual red ones.

Published: 11/01/2019
Guest Article: A Bountiful Fall Container, by Jacqueline Murphy of Semperflora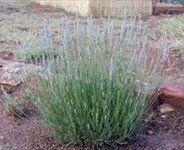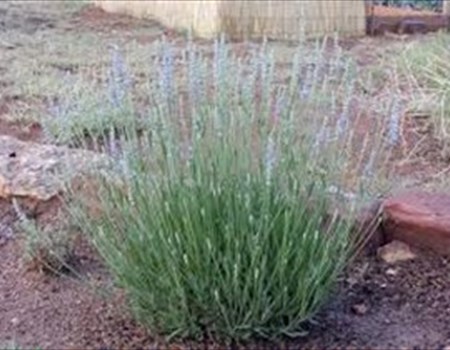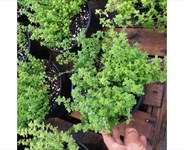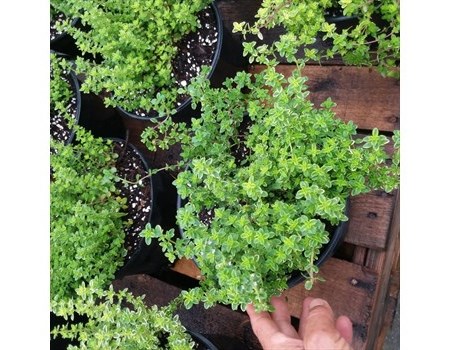 Fall is for planting — and for planning.

And it's the perfect time to consider planning a container design that involves beautiful, colorful edibles. Below you'll find a few recipes for edible container gardens using locally grown plants. You'll find one container planted with three different ornamental edible designs below.


Planting Recipes


These recipes are inspired by some the plants currently on offer from Fall Line Farms and Local Roots' producers. Recipes are designed for a single half whiskey or wine barrel planter or a comparable container 26–28 inches in diameter. A half barrel holds about four cubic feet of soil and you can find bags of soil for sale at Fall Line Farms and Local Roots, too. Each design includes a mix of edibles that are also ornamental.

1 Rosemary 'Salem'

Johnny-Jump-Up

Thyme 'Golden Edge Lemon'


Plant the rosemary at the center and use a mixture of Johnny-Jump-Ups and thyme around the edges of the container. If you're placing the planter against a wall, place the rosemary slightly off center and toward the back of the container and cluster the smaller plants in a half-moon shape at the front.

3 Red-veined Sorrel

Plant three red-veined sorrels. Harvest from the outside of the plants (cut-and-come-again) often to prevent overcrowding.

1 Lavender

Johnny-Jump-Up

Thyme 'Golden Edge Lemon'

Plant the lavender at the center and use a mixture of Johnny-Jump-Ups and thyme around the edges of the container. If you're placing the planter against a wall, place the lavender slightly off center and toward the back of the container and cluster the smaller plants in a half-moon shape at the front.

Place your container garden in a location that gets about six hours of sunlight per day for the most bountiful harvest.

The Plants and How to Use Them

Rosemary 'Salem' is an upright and particularly hardy form. It makes a fine-textured architectural focal point in a container. It also makes a great addition to hardy fall soups and stews, to roast chicken and other meat dishes. You can also snip a few stems and add them to a hot bath to help soothe tired muscles. Tie up the stems in a clean cloth to prevent leaves from sticking to you.

Toss the flowers of Johnny-Jump-Ups, or violas, into salads or to add a touch of color to any dish. They're particularly lovely as cake decorations.

Use thyme in scrambled eggs, soups, or almost any dish for its clean, slightly astringent flavor.

Red-veined sorrel is another architectural plant with a dramatic upright form. Add a few leaves to salads and to season soups, omelets, poultry, beef, pork, and fish dishes.

At the moment, our farmers are offering a variety of potted edible plants including:


Arugula

Broccoli rabe

Johnny-Jump-Up

Kale

Red and green cabbage

Red-veined sorrel

Rosemary 'Salem'


Jacqueline Murphy loves to talk plants! She practices her garden artistry at home in Cumberland, Virginia, and also at the homes and businesses of her clients. Visit semperflora.com or find Jacqueline on social media at Instagram @semperflora_virginia or Facebook @semperflora. Roughly translated, Semperflora means "always plants."

Published: 10/25/2019
Storing Winter Squash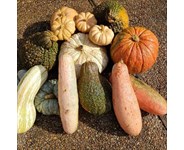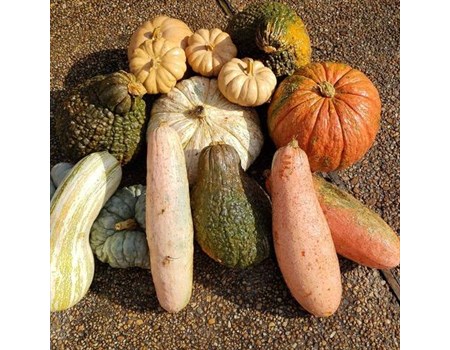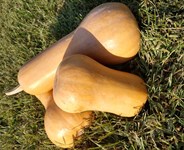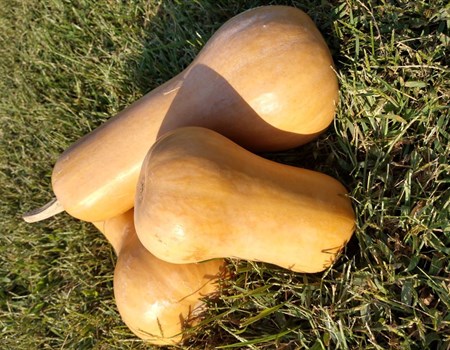 It's that time of year when gorgeous winter squashes are widely available. If you love them, you can buy now and enjoy them almost all winter! Many will last from two to four months when properly cured and stored.

Delicata and spaghetti squash shouldn't be cured at all. They'll last two or three months in storage, so you should plan to eat those first. Hubbards and butternuts, on the other hand, are great keepers and will last 5 to 8 months under the right conditions.

Interested in giving winter squash storage a try? Here are a few tips that will help you prolong your stash:

Make certain your squash are properly "cured." If you're purchasing from a producer, ask whether they've been cured for storage. If so, you're ahead of the game. If not, then you can do it yourself. Just leave the squash in a sunny, warm (80 to 85 degree) place for about 10 days. When your fingernail won't cut the skin, the squash is ready for storage.

Store the squash in a single layer. You can use a basket or box of any kind—something breathable will help them store the longest. Place the squash in the box with crumpled paper between them to keep them from touching. Store only unblemished squash—you can preserve any with broken skins by freezing (but that's a different blog entry!).

Keep the space cool and dark. Winter squash will store best between 50 and 55 degrees. If you can, keep the humidity at about 60%. Before I had a basement, I used to keep mine in a seldom-used guest room with the door closed.

If you're unsure about whether your squash needs to be cured or how long it will last, Google it! Charts abound on the internet, so it won't take you long to discover what you need to know.

Winter squash are delicious and nutritious, and with a little care you can enjoy the pies, soups, and other dishes to which they add their beautiful flavor and color. This is the time of year when many of our producers have winter squash on their buying pages. Enjoy!

Published: 10/11/2019
Pounds of Plenty: How Our Producers and Community Members Come Together to Give Back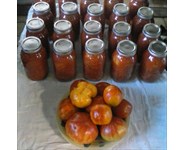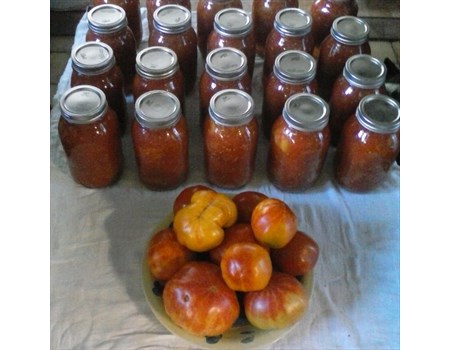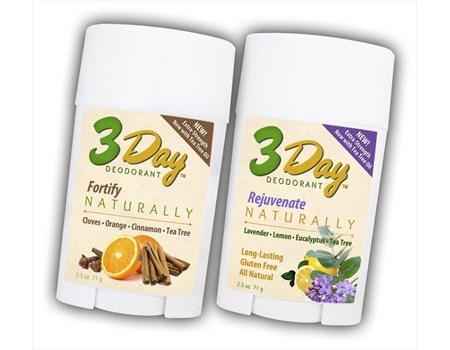 Members make a difference every time they purchase from Fall Line Farms and Local Roots. Every order brings you great fresh food and made-in-Virginia products like flower essences, goats milk soap, and beautiful flower bouquets. But did you know that every order also strengthens the local food system right here in RVA and Central Virginia by creating income and opportunities for small farmers, makers, and food entrepreneurs? You're doing good stuff!

And there's another way that we work to strengthen our Central Virginia market region. It's called 'Pounds of Plenty." With the touch of a button, you can donate food from FLF&LR to neighbors in need and other worthy causes. Pounds of Plenty is our way of collaborating with producers to make great food available to a food bank near you.

Producers choose what they can discount for donation during any particular week. You choose and order those items from a producer. We deliver what you ordered to the food bank closest to your pick-up location. Your donation goes directly from the producer to folks in your neighborhood who are in need!

Selections change weekly, depending upon the season and producers' supply of certain items. This week, you can donate natural deodorant or granola from Misty Morning Sunrise Farm, ground beef from Thornebrook Farms, and butternut squash or potatoes from Thistledowne Farm. Or you can choose to donate tomatoes to this week's featured program, the Culinary Arts Classes at Goochland High School.

Chef Dave Booth teaches Culinary Arts at Goochland HS. He's also chair of the Center for Rural Culture's Education Committee. Dave's going to be teaching his students how to can food, and some of our producers are banding together to get him tomatoes.

You can support this effort by going to the Pounds of Plenty page, then scrolling down to the section that says "tomatoes--bulk seconds." The tomatoes you order will go straight from the farm to Dave's classroom!

We're committed to LOCAL, and this is just one way that we take care of our market's region. Thank you for your support of this non-profit online farmer's market, and for your generosity in giving through the Pounds of Plenty program!

Published: 10/04/2019
A Great Community Resource: The Hanover Cannery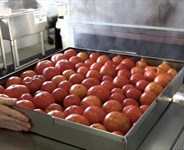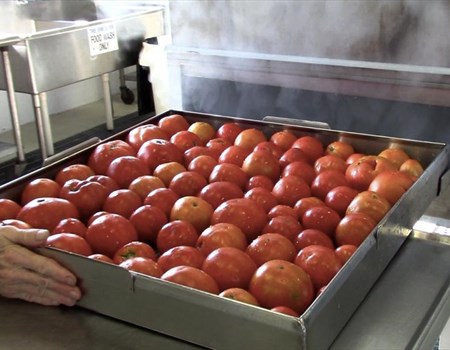 by Phillip Perrow

The Hanover Cannery has been a community resource stretching back 3 decades. My personal experience there has been a mere 3 months. Within this short amount of time, I have come to realize the importance of the cannery. The cannery is more than a commercial kitchen. It is a bridge to our past traditions, to our current food sources, and to our future generations.

All are welcome to the cannery. As a commercial kitchen and processing facility, the Hanover Cannery offers the use of steam kettles ranging from 30-80 gallons, prep stations consisting of stainless steel tables and large basin sinks, a blancher, a mechanized food mill, an awesome corn cutter, a potato peeler and three large retorts capable of pressure or water bath processing. Basically, it provides the space and equipment you need to process your food items on a large scale in a respectable amount of time at a very reasonable price.

The cannery has the ability to process your products in either mason jars (pint or quart), or in size 2 ½ cans (3 ½ cups). If using jars, the price is $.30/jar for Hanover residents or
$.40 for out of county patrons. Jars are not provided by the cannery, so please bring the appropriate amount needed when visiting. If using cans, these will be provided by the cannery at a cost of $1.17 for Hanover residents and $1.32 for out of county patrons. All the equipment is priced at $1.25 per day.

Beyond the canning capabilities, the cannery offers a chance to preserve the art of food preservation. It's a place where family recipes can become gifts. It's a means to provide meals when the fields are rejuvenating. And it's a chance to continue the traditions of a key aspect to homesteading. The experience becomes a point of pride as much as a way to provide sustenance. Canning offers complete control and transparency of what you put on your shelf and what you put in your body. And with the capabilities and efficiencies of the cannery, multiple batch processing, like you would typically do at home, is consolidated tremendously.

For any further inquiries or to make an appointment, please reach out to the cannery at 804-365-6484. Hours are limited for the remainder of the year, so appointments are highly recommended. Our address is 12491 Taylor Complex Lane, Ashland, VA 23005. You can also visit the Facebook page Hanover Community Cannery for more information and updates provided by the patron network of the cannery. We look forward to seeing you.

ABOUT THE AUTHOR: Phillip Perrow was born and raised in Richmond, VA. His career in the food industry started at the age of 17 when he took a summer job washing dishes in a restaurant. His path led him to Johnson & Wales University in Charleston, SC where he graduated in 2002 with a Culinary Arts degree. Phillip returned to Richmond to work for Dale Reitzer of Acacia-Midtown and in 2012 left to open his own restaurant, Dutch & Co., with two other partners. Phillip left the restaurant world in 2018 in order to pursue other avenues connected to food. He now works as the Cannery Supervisor for Hanover County.

Published: 09/13/2019
Easy Oven-Roasted Tomatoes with Garlic and Herbs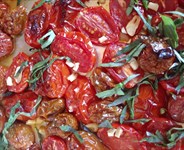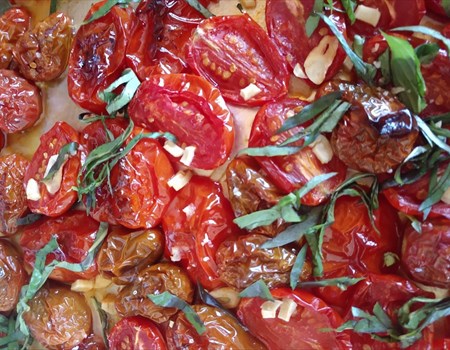 TOO MANY TOMATOES? WANT TO SAVE SOME SUMMER FOR WINTER?

We can help with this simple, delicious, freezable recipe!
All you need are tomatoes, garlic, basil, olive oil, and sea salt. You'll also need a rimmed baking sheet and, if you want to peel the tomatoes, a set of kitchen tongs.

Any kind of tomatoes will work--even the little teeny ones. You can follow this method all the way to the end, or you stop at simply roasting them, and then packing them plain into a plastic container to freeze for use later. (Don't skip the salt, though.) Or you can fancy them up a little with roasted garlic and wilted basil, as we're doing here.

GET ROASTIN'!

Wash your tomatoes.

Drizzle a rimmed baking sheet with olive oil.

If the tomatoes are large, slice them in half and arrange them on the baking sheet with the cut side down (peeling up). If they're cherry tomatoes, you can just throw them on the cookie sheet in wild abandon.

Place the tomatoes in a 450 degree oven. Roast them until they begin to collapse a little. Begin checking them at about 10 minutes.

While the tomatoes are roasting, slice several large cloves of garlic. You can add as little or as much as you like. I usually slice about 3 large cloves per baking sheet of tomatoes.

TO PEEL OR NOT TO PEEL?

If you don't like the peels on your tomatoes, then once they're hot and the peels are loose, pull the sheet out of the oven and set it on top of the stove. At this point, you can easily remove the peels with a set of kitchen tongs and throw them in the compost. They'll just lift right off of the tomatoes. If the peels aren't loose yet, just put them back in the oven for a few minutes and check again.

Here's an admission. If they are little tomatoes, I often just leave the peels in the mix. They don't hurt anything. But you do you!

At this point, you should sprinkle sea salt over the tomatoes, to your taste. You can add some pepper, too. Then sprinkle the garlic slices over the tomatoes drizzle again with olive oil.

Roast until the tomatoes are jammy, caramelized, and not so liquidy. While they're roasting, prepare your basil for wilting over top of them when you pull them out.

BASIL MAKES IT BETTER

I usually chiffonade the basil leaves (stack them on top of each other and then roll them into a cylinder, then cut so that the pieces come out in long strips). You can also just chop the basil or tear it and sprinkle it over the hot tomatoes, then stir to combine them.

Let the whole thing cool, then pack into freezer bags or freezer containers. When I'm using a freezer container, I usually put a thin layer of olive oil over the top just to create an additional air barrier. Be sure to mark the container with the date and the ingredients.

SAVOR LATER!

If you don't like basil, feel free to substitute with any herb that suits your fancy. Oregano comes to mind as a great choice for tomatoes. Or use minced onion instead of garlic.

These tomatoes will bring August to your plate in February. Impress your company (and yourself) by warming them up and serving them with grated parmesan cheese over pasta or a cooked chicken breast. Add crusty bread and a fabulous salad for a wonderfully simple meal.

Published: 08/30/2019
New Producer Spotlight: 7 Muffins a Day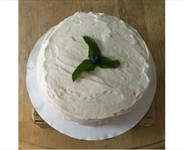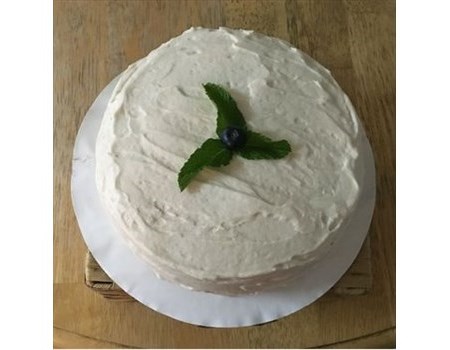 MEET THE BAKER, JOANNA CHAVES

By her own admission, Joanna Chaves has "always been a big foodie." That's why, as founder of 7 Muffins a Day—our newest producer and maker of delicious foods that use gluten-free and dairy-free ingredients—she works hard to make sure that each of her products has the best possible taste and texture. It's a point of pride for her that her foods are deemed delicious by anyone's standards, whether they are gluten and dairy free or not.

"I've always loved good-tasting food," she says. "Italian, Mexican, Thai—anything with great flavor. I want to share that with my customers."
As for her culinary influences, she collects them on her travels. And she's been traveling all her life. "My father's work took him all over the world," she explains. "We went with him to some of those places. I've lived in England, Africa, and here in America. Also, my son is half-Brazilian, so we like a lot of Brazilian food."

One Brazilian food that her family likes is the pastel, a small hand pie similar to an empanada, but fried rather than baked. Pastels are filled with delicious savory meats and cheeses. Another of their favorites is the coxhina: a Brazilian chicken croquette shaped like a drumstick. Her doughnuts have an African taste in terms of the spices she uses. "They are baked, not fried," Joanna says. "They come with packets of sugar so that (this is mostly for the ladies) you can control how much sugar you want on them."

Years ago, Joanna realized that she needed to change her diet. Dedicated to making a major lifestyle change, she wanted to be able to keep enjoying the flavors she loved even as she guarded her health. "I'm borderline celiac," she says, "and I have a sensitivity to dairy. Because of these factors, I began to try to live more naturally and organically. I lost weight. I noticed how much better I felt. So I started trying to develop recipes for the things that I liked."

Joanna learned as she went, trying different flours until she figured out which combination would work for the particular item she was making. "You can't use just one of these flours," she says, "Most of the time, you have to combine them in order to get the texture you're looking for. For instance, my tea cookies are made predominantly with arrowroot flour. But there are others in the recipe."
Having been at this for a couple of decades now, Joanna lets her intuition and her knowledge of the characteristics of each flour guide her as she develops a new recipe. Through 7 Muffins a Day, customers are now reaping the delectable benefits of her experience and experimentation in the kitchen.

"Of course," she says, "gluten-free flours are pretty expensive. A one-pound bag of quinoa flour is $11 to $14, depending on where you shop. Arrowroot is $7 for a one-pound bag. I try to reach a happy medium so that I don't have to charge so much for my products."

Judging from her first week of orders on Fall Line Farms and Local Roots, our members are enthusiastic about the gluten-and-dairy-free options. Sales were pretty brisk, so she seems to have hit the mark on her pricing—and we seem to have hit the mark in adding her to our producer lineup.

Because of her own issues with gluten and dairy, Joanna carefully maintains a dedicated pantry with its own set of pans and other baking equipment. "Flour can be suspended in the air for a time after a baker has finished," she notes, "That's why I don't bake with wheat flour anymore. It can cross-contaminate a surface if you aren't careful in how you maintain your equipment." Joanna works with care, ensuring that her products not only taste wonderful, but are also are safe for everyone who needs to avoid gluten and dairy. Each of her products has a detailed ingredient list so that customers know what they're buying.

"I use soy milk in place of regular milk," says Joanna, "and vegan butter. I do use eggs. Even my chocolate chips are soy-based. When you are entertaining someone who has gluten and lactose issues, you can serve products from 7 Muffins a Day with confidence. If you make things with regular flour, a person who's intolerant can't enjoy them. But because my products taste so similar to mainstream baked goods, everyone can enjoy them--even people who don't have special dietary needs."

If you have a friend who can't eat gluten or dairy, 7 Muffins a Day is the perfect place to find treats that they can eat. Joanna's cakes are beautiful as well as tasty, but they are plain enough that you could take one home and decorate it for a birthday celebration. Instead of trying to bake a gluten-free, dairy-free cake yourself, you can let this accomplished baker do the work for you. Or you can serve gluten-and-dairy-free cookies at a bridal or baby shower. All your guests will enjoy them.

"When you think about history," says Joanna, "all I'm really doing is going back to basics. A long time ago, we didn't use just wheat. We used all of these things. Corn, oats, it wasn't just all wheat. And it was all organic, too." It's also worth noting that the nutritional value of these alternate flours is almost always higher than that of regular flour. "Quinoa flour," notes Joanna, "is a good example, It's higher in protein and in fiber. And by the way, most of my flours are organic and non-GMO."

SWEET, SAVORY, AND DELICIOUS!

The range of flavors offered by this accomplished baker is impressive. There's sweet, there's savory, and there's everything in between.
Each package of tea cookies offers an assortment of jam-filled "thumbprint" cookies with the classic texture and taste. They are just the right level of sweet, and look beautiful spread out on a plate with the different-colored jam centers shining like stained glass.

The brownies are large, sweet, and fudgy with exactly the texture you'd expect. They're also generously sized, so perfect for sharing with someone who deserves a chocolately treat as much as you do!

The coffee mocha cupcake is simply wonderful—the cake and the frosting are beautifully balanced—the tender, cakey bottom complements the creamy frosting. Each is just perfect in terms of sweetness, and the frosting achieves perfect harmony between the chocolate and coffee flavors.

The savory items are just as wonderful, which brings me to making an admission. I was driving home from picking up my market haul, and I opened the bag of 7 Muffins a Day croutons just to try one. Wow! They were a revelation! I really did mean to take them home and put them on a salad so that I could take pictures of them for social media, but they disappeared before I could make it home. True story.

Joanna uses her challah bread as the base for these addictive little bits of scrumptiousness, then flavors the croutons with rosemary, spices, and balsamic vinegar. The crunch is unbelieveable! Had they made it home, the croutons would have been the perfect companion to a fresh green salad or to a bowl of tomato soup. But alas, I will have to order again. And this time I will put them in the trunk of the car on the drive home so that I can at least snap a picture before I devour them.

Joanna offers some other wonderful savory foods. "I've been told that the tomato basil cornbread tastes like stuffing or like Thanksgiving," she says. About the rosemary olive flatbread, Joanna explains, "it looks like focaccia but it has no cheese in it—just the specks of rosemary and the Spanish green olives with pimentos. It's soft and very versatile and can be sandwiched with tuna or chicken salad and mayo, melted ham and cheese, made into a personalized pizza, or eaten on its own. It pairs well with white wine. You can also roll it up with a nice traditional Italian sausage then cut it into rounds secured with toothpicks and serve it for hors d'oeuvres, maybe with cheese or extra olives. You can also cut them into triangular strips and bake them dry to make chips for your favorite dips."

WHAT'S IN A NAME?

When asked about the story behind her business's unusual name, Joanna laughs and says, "That's a good question! People ask me whether I mean that they should eat seven muffins a day."

She pauses, then chuckles as she says, "Possibly! But actually, when I started this business in 2016, I had been laid off and it was with the goal of making money and also saving up money for my son's college education. I wasn't sure if anyone would buy my products at all, but I thought that if I sold at least seven muffins that first day, I would continue on." Fortunately for Joanna (and for the customers who love her products), she sold her quota of muffins and now seems to be finding more demand for her impressive array of products.

Formerly in finance, Joanna now enjoys the creativity of developing and baking her recipes and the satisfaction of pleasing customers. She chose to join Fall Line Farms and Local Roots on the advice of another vendor who explained to her our mission as a non-profit online farmers market.

"It sounded like a good idea," she said. "I could do Grubhub or some other for-profit company, or I could join [Fall Line Farms and Local Roots] and be part of something that's helping the community. It just seemed like a great idea."

Joanna thinks we're a great idea, and the feeling is definitely mutual. She brings a new dimension and some great new products to our producer lineup. Now all we have to do is sit back and see what she bakes up next!

Published: 08/19/2019