Blog
New Producer Spotlight: Curds and Whey RVA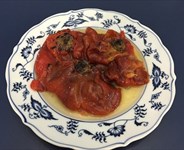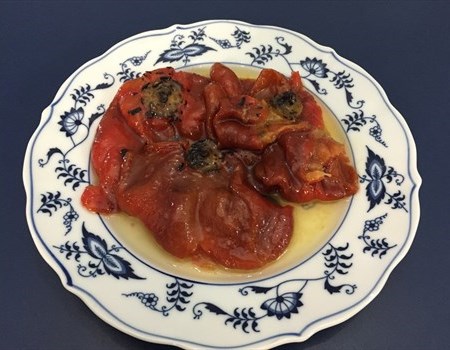 The story of Curds and Whey RVA begins in Staten Island, New York, in the 1960s. John Ernst was just a kid working in a deli. Little did he know that he and his siblings—2 sisters and 3 brothers—would later end up running that deli themselves.

"We did everything," he says, offering a long list. "Customer service, catering, cutting deli meats, stocking shelves, you name it." Of course, part of that included making classic Italian deli foods, which John now sells through Curds and Whey RVA, here in Richmond. John has been delighting customers in the Richmond area for the past 25-plus years with his culinary creations—first as a chef, and now as a food entrepreneur—and we're excited to have had him join the Fall Line Farms and Local Roots community, adding to our list of top-notch producers.

NORTH TO SOUTH

John first came to Richmond in the early 1990s. His brother-in-law had become the head chef at a restaurant on Broad Street called Pasta Luna, and he invited John to come be his right hand man. John moved south from New York, and a few months later found himself the head chef when his brother-in-law quit. For the next nine years, John's stellar dishes kept customers coming in for more.

A brief stint at Lakewood senior living followed, where John served as executive chef. Ever curious about food, he noticed the delicious spoonbread made by one of the ladies who had worked in the kitchen there for 25 years. "She gave me the recipe," John says. "It's totally traditionally Southern. At first, I made it just for fun. I made it because I liked it. Now, it's one of my best sellers!" The inclusion of this classic Southern dish amongst all of the Staten Island fare is just proof of John's culinary curiosity and his knowledge that a good recipe is a good recipe—no matter on which side of the Mason-Dixon Line he finds it!

After leaving Lakewood, John was owner and head chef at A Cappella, a German-Italian restaurant inside the Patrick Henry Inn in Richmond's Church Hill. He then served as the Food Service Director at St. Christopher's School for ten years. Curds and Whey RVA had been a sideline for the past 6 years until this past June, when he took the business full-time. Now, he works out of the kitchen at the Bishop Ireton Center in Southside Richomnd and sells his delectable food through several local outlets, including Fall Line Farms and Local Roots.

CHEESE, PLEASE!

John's hand-stretched mozzarella cheese has already proven popular with FLF&LR members. And with good reason. If you're used to grocery store mozzarella, then you know that it can be bland and rubbery. Not so with this cheese. The Curds and Whey RVA version is much more flavorful, with a soft, wonderfully creamy texture. It has just the right touch of salinity, and a cheesiness that grocery store versions lack. If you slice some and leave it out for about 15 minutes, it's perfect with tomatoes and basil in a caprese salad. It's also delicious melted on a pizza or a hot sandwich. This is no ordinary mozzarella!

"I make the cheese myself," John says proudly, "I stretch it by hand. I use a particular type of curd to make it. It's best when it's been out about 15 minutes. That brings out the creaminess."

This mozzarella (which John pronounces "Moot-zah-rell," with a slightly trilled "r") is also different in the way that it's packaged. Because it's in a sturdy plastic container, you don't have to rewrap it after each use, and it's easy to slice. You can cut what you want and just leave the rest in the tub. The shelf life is two weeks, but it will be long gone before you need to worry about an expiration date!

MORE ITALIAN DELI CLASSICS

Lucky for us, spoonbread and mozzarella appear on up on the Fall Line Farms and Local Roots buying pages. And even luckier, Curds and Whey RVA offers pre-prepared classic Italian deli foods. There are delicious heat-and-serve hero sandwiches. There's lasagna, eggplant parmigiana, and baked ziti with marinara sauce. All of these are made from scratch and come ready to heat up and serve. If you like to cook for yourself but also need a head start, you can buy fresh marinara sauce or fire-roasted peppers. And for dessert, you can choose a lovely chocolate mousse or some delectable tiramisu.

The Curds and Whey RVA version of tiramisu is the same one that pleased diners at Past Luna and A Cappella. This dessert is fabulously rich, but surprisingly light on the tongue—another achievement of culinary balance. No one flavor overpowers the others. John says that his recipe came from Ferraro's in Little Italy, by way of a former employee of that establishment who taught him to make it. It is indeed a mouth-watering little taste of Italy and the perfect ending to a great meal, especially with a cup of coffee—or, better yet, expresso or cappucino.

The tiramisu shows John's mastery of complicated dishes. But the mark of a good chef is an equal mastery of simple foods. Curds and Whey RVA's Staten Island potato salad and Staten Island macaroni salad, sold by the pound, are simply wonderful. Again, John takes care with not only the ingredients, but also the method. "The potatoes need to be warm when you make the salad," he says. "And you don't want to overdo anything." While some prepared salads are too salty or mayonnaise-y or onion-y, these are just right. These are perfect sides for a Curds and Whey RVA sandwich. They will also pair well with foods from other producers in our community. Think grass-fed burgers or freshly steamed shrimp.

Graciousness and a real desire to treat people to great food are hallmarks of the Curds and Whey RVA style. John had shared some of his handmade mozzarella with our own Market Manager, Becky Lillywhite. She loved it, declaring that "it is even better than [her] own!" John had been looking for a way to have an online presence for Curds and Whey RVA. Becky, having tasted his cheese, suggested that he consider joining our cooperative.

"Becky showed up just when I needed her," says John, smiling. "If you're good to people, if you put it out there, it's gonna come back to you." Looks like Curds and Whey RVA showed up just at the right time for our members, too.

Mangia Bene!

Published: 08/09/2019
GUEST RECIPE: Stuffed Squash Blossoms, from Chef Andy Howell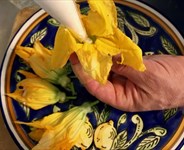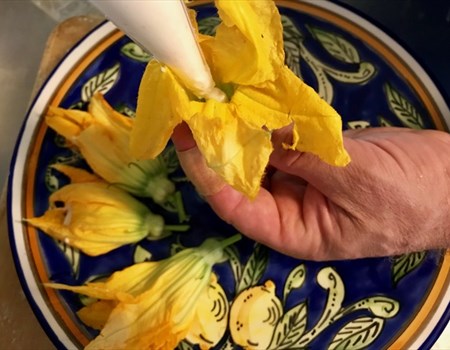 Recipe to stuff 12 squash blossoms.

Stuffing

¾ cup goat cheese at room temperature
¼ cup grated Parmesan cheese
1 egg yolk
Several turns of freshly ground black pepper
Pinch of cayenne pepper

Batter

1 cup self-rising flour or AP flour with 1 teaspoon of baking soda and a pinch of salt
½ cup corn starch
1 cup of ice water, adjust as needed
Oil for frying


Stuffing Instructions

• Mix all stuffing ingredients until fully incorporated. Add stuffing to pastry bag fitted with a medium tip or one quart zipper bag with a corner cut off.

• Squeeze mixture into each blossom leaving room to fold petals over the top to seal.

• Cover and refrigerate for half an hour or up to two days. Save any leftover stuffing and use as a topping for warm pasta dishes.

Batter Instructions

• Mix dry ingredients then slowly add water until you get the consistency of thin pancake batter.

• Pour an inch of oil into a heavy skillet and heat to 350 degrees or until a drop of batter gurgles brightly when dropped in the pan.

• Dust the chilled stuffed blossoms with flour, dip into batter, shake gently, then fry until golden; a couple of minutes on each side.

• Drain on a paper bag or towel.

• Serve over cold beans, arugula salad, risotto, or simply pass as an appetizer as you would with fried ravioli.

Recipe by Chef Andy Howell.
Photos by Jacqueline Murphy.

Chef Andy Howell has a long and distinguished history of restaurant entrepreneurship in Richmond. He apprenticed under Chef Bob DiCapri and went on to cook in some of Richmond's finer establishments — The Brass Knocker, La Petite France, Poor Richards — before opening his first restaurant, the Zeus Gallery Café, at the age of 25. Over the next 29 years Chef Howell went on to open Portabella in Petersburg, and Avenue 805, Café Rustica, and Camden's Dogtown Market in Richmond.

These days Andy is renovating a historic farm in Cartersville and reducing his recipes for two people. He's available for special event catering until he's ready to focus on his next culinary venture.

Published: 08/02/2019
RECIPE: Garlicky Ground Pork (or Beef) Skillet Pasta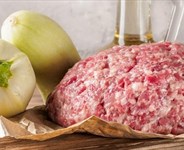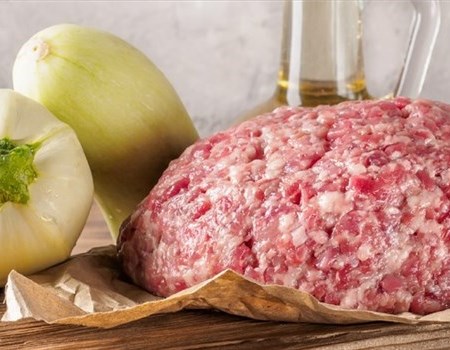 Our members already know that we choose our producers carefully. When it comes to meat, our farmers are dedicated to providing meat you can trust—sustainably and humanely raised, with no antibiotics or hormones (like the ground pork from Cypress Grove Farm, pictured here). Here's a quick skillet dinner recipe that will make delicious use of some of the ground meat available on our pages. You can use pork (which is my usual) or beef from any of our wonderful producers. You could even use ground chicken.

INGREDIENTS

3 cups of uncooked penne pasta

1 pound of ground pork (or beef or chicken)

½ cup of chopped onion

1 small green pepper, diced

2 cloves of garlic, roughly minced

2 pints of home-canned tomatoes or two cans of stewed tomatoes, liquid included but reduced (see below)

Fresh or dried basil

1 medium zucchini or yellow squash, cut into ½" chunks or slices.

ASSEMBLY

Cook the pasta as the package directs. Set aside.

In a large saucepan, reduce the tomatoes down until they thicken a little. (If you're in a hurry, add half of a small can of tomato paste to help thicken the sauce. Or if you can tomato sauce, use a pint and a half of that instead of the canned tomatoes).

In a large skillet, cook the meat, onion, and pepper together. When the meat is no longer pink, add the garlic and cook for another minute or two.

Add the tomatoes, pasta, and squash and let simmer for five minutes, until the squash is just barely cooked.

Serve with freshly grated parmesan cheese.

Consider a double batch, as the leftovers freeze well and warm up beautifully. And I like the taste even better after it's had time to develop. Experiment with your own touches, including hot pepper flakes or different herbs.

Makes about 6 generous servings.

Buon appetito!

Adapted from "Jiffy Ground Pork Skillet" on the Taste of Home webpage by Katie Hoffman, FLF&LR Marketing and Promotions Director.

Published: 07/19/2019
New Producer Spotlight: ThorneBrook Farms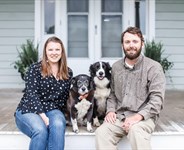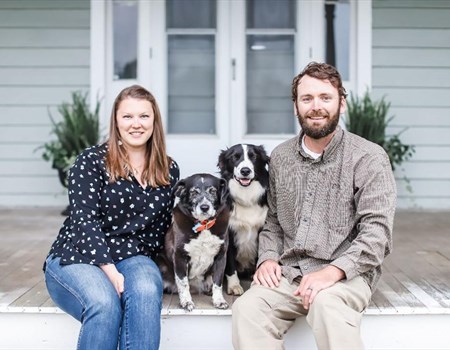 Jil and Brooks Davis (pictured above, with dogs) were high school sweethearts. They fell in love with each other passing notes in class. Jil laughs and says, "Brooks likes to tell people that we had chemistry between us, because we met in Chemistry class. He's been telling that joke for 20 years now!"

As they look out over about 230 head of cattle grazing contently in thick meadows, the Davises explain that from the beginning, their plan included becoming independent cattle farmers with their very own farm, herd, and home.

"We are first-generation farmers," says Jil. "We started our herd from the ground up." They began 14 years ago with a herd of 16 on 40 acres of leased land. Now, they graze over 200 head of cattle on about 500 acres. And they recently bought a farm in Cumberland County, where they are restoring a 4000-square-foot home and figuring out where to put the gardens and fences and, of course, some animals.

Brooks didn't grow up on a farm, but he has always wanted to be a farmer. "He worked for several local farmers when he was in high school, helping with cattle and with hay and other crops," Jil says. "Brooks was always serious about this. So he went to Virginia Tech and majored in Agribusiness. He's doing what he was meant to do."

Jil, who grew up on what she calls a "hobby farm," loves animals and originally intended to go to veterinary school. But taking a few courses in bookkeeping introduced her to her true passion. She earned a degree and worked as a professional bookkeeper as she and Brooks saved money and followed their long-term plan: becoming full-time farmers.

Now, Jil's not only the bookkeeper for ThorneBrook Farms, but she's also the marketer and social media guru. She's responsible for the beautiful pictures on the ThorneBrook Farms website and social media accounts. She's also a writer who offers thoughtful entries on her blog, using her farm, family, and faith as inspiration.

For Brooks, the climb from farm hand to farmer was slow, steady, and sweaty. He created a landscaping business and worked full time to make money. The couple stayed focused on the future, starting a plan for their farm in 2006 and buying their first cattle in 2007. That was the inception of the side hustle that has now become ThorneBrook Farms.

In 2009, "everything started changing," said Brooks, including how he was raising his cattle. "I was raising grass-based cattle but there were some conventional methods in there." As they learned more about sustainable farming, Brooks and Jil began to lean more in that direction. "We are people of faith, so we began praying about what to do. We're also clean eaters, so making this change fit with our lifestyle. We wanted to offer others the kind of meat that we wanted to eat ourselves."

Brooks and Jil spent their precious spare time reading up on sustainable methods in publications like The Stockman Grass Farmer, a magazine that's been around since 1947 and is now edited by Joel Salatin of Polyface Farms. Salatin's ideas have been a great inspiration to the Davises. So have other luminaries of the sustainable farming movement, including Ian Mitchell Innes of South Africa, Greg Judy of Green Pastures Farm in Missouri, and Sandy Fisher of Brookview Farm in Goochland.

Just as he had always dreamed, Brooks is now a full-fledged, full-time farmer. His love of what he does comes through when he talks about the animals. "One thing that I like about our beef," Brooks explains, "is that they were conceived here and raised here. We even know what their mommas ate! These cows have 500 acres and no stress." An active member in the Virginia Biological Farming Association, Brooks raises his beef organically. No pesticides or antibiotics, all grass-fed and finished. Over the years, he's developed his own systems of watering and rotational grazing, resulting in lush meadow and grasslands. The cattle, able to move about freely and pick at the grass, thrive.

This year, the couple decided to "step out on faith," as they describe it. "We are going to do it on our own," says Jil. ThorneBrook Farms is now officially Brooks's full-time occupation. Soon, they will move from their rented home in Goochland to their fixer-upper in Cumberland. Since they can't keep all of their cattle on the 54 acres at their new place, they'll leave most of them in Goochland, on 500 acres of leased land near Manakin.

As a longtime member who purchases most of her groceries through our online farmers market, Jil is excited about the fact that Cumberland has a pickup location for her weekly market haul. She's also excited about becoming a producer. "I've always wanted to have a little store," says Jil. "Now we can do it through Fall Line Farms and Local Roots! I've always loved that I can choose just what I wanted from the market. And we know most of the farmers, so we know that we have great colleagues."

Though it makes Jil laugh when she talks about it, there really is substance to Brooks' claim about good chemistry. The Davises definitely have it. And they are such a good fit for our market that we're confident in the good chemistry they'll bring as producers, too. Welcome, ThorneBrook Farms.


(by Claire Fortier, Center for Rural Culture Board Member, and Katie Hoffman, FLF&LR Marketing and Promotions Director)

Published: 07/12/2019
New Producer Spotlight: delli Carpini Farm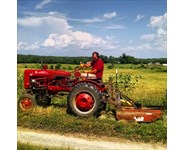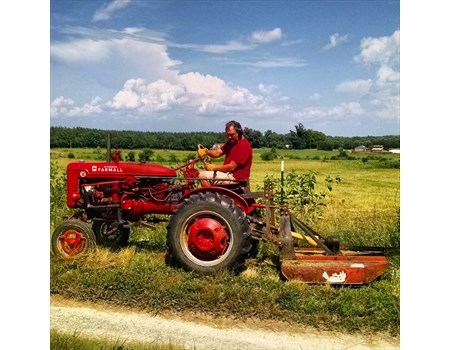 The Colorado potato beetles have done his potatoes in, but Dominic Carpin is philosophical. "It's been a good year for the alliums," he says. "I've got plenty of great onions cured and ready to sell. They'll store great! And I can plant a fall crop of potatoes."

Dominic (pictured above on his vintage Farmall tractor) knows how to roll with the punches. He went into farming after being laid off from his job with Capital One. While still employed at Capital One, his love of gardening re-awakened when he became a team captain for a community service project at Chimborazo Elementary. Dominic was the subject matter expert for the team, overseeing the renovation of the grass lawns and the construction of an outdoor classroom. After being laid off, he began doing day labor for a friend in Goochland. He noticed that his friend had a 1500 square foot, deer-proofed garden that he wasn't going to use. Dominic asked to use the garden, his friend agreed, and the seeds of delli Carpini Farm were sown. After working in several other locations, Dominic finally found his current 12-acre farm, where he is celebrating the five-year anniversary of his agricultural endeavor.

Italian Roots, Heirloom Branches

Delli Carpini Farm's focus is on heirloom vegetables. Dominic notes that it all began with Italian heirlooms—an homage to his heritage. He waxes poetic as he describes what he loves best to grow: "Romanesca zucchini. Wow! They're more flavorful than a normal zucchini and they have a harder texture. Some are shaped like a ball. And there's Lacinato kale. And San Marzano tomatoes—large ribbed Italian sauce tomatoes—so dry they're great for sauces. I also grow two or three Italian specialty eggplants. And very cool Italian radishes—Candle of Fire. And Neopolitans that look like carrots but one is hot pink—one goes from red to hot pink to white." The list continues to include Italian lettuces, chicory, radicchio, escarole, endive, and wild fennel, among other things.

Though his emphasis still tends to be on Italian heirlooms, Dominic has added a number of other heirlooms to his offerings, including Japanese and Eastern European beans and a number of different types of potatoes (when the beetles don't attack so ferociously). He is also interested in herbalism, and raises lots of crops with both culinary and medicinal uses—burdock, elderberries, spring oats for milky stage seed pods, and wild white rose flowers.

Farming With Nature

Despite the beetles and bugs, Dominic is committed to going as natural as possible with his farming. "I use biointensive techniques," he says. "Also some biodynamic. I plant by the signs. I use only OMRI listed inputs. [OMRI is the Organic Materials Review Institute]. That includes things like rock powders, fish emulsion, granite dust, phosphate rock, wood ash. I'm not certified [organic], but I don't spray anything stronger than soap and horticultural oil. Nothing strong, not even Captain Jack's dead bug brew. It's powerful, but I don't use it anymore. Instead, I try to create an ecosystem that will benefit the beneficial insects. I use a lot of buckwheat, blue tansy. That brings in the beneficial bugs. And I use covercropping and rotation: legume leaf, root, fruit,"

Dominic is a man with a plan. He says, "One of my goals is to earn a living wage as a one-man army. No farm debt, no employees. I do use some casual labor and volunteers. Part of my plan is growing pure, clean food. I like to consider my farm a bumblebee sanctuary. I am catering to kids with food allergies--providing chemical-free foods that improve disorders and help alleviate allergies."

Another part of his plan is forming relationships with others in the local food system. "Some of my best customers are restaurants like Alewife and Perch. I also work with Ellwood-Thompson's. I like the idea that we're building a farm community. For example, I collaborate with lots of other farmers. One is Allgood Acres. They're meat farmers. The owner is a retired marine out of Nebraska. He let me use his heated greenhouse this year."

Workin' It

When he isn't digging in his fabulous farm dirt or driving his vintage Farmall tractor, Dominic is planning other farm-related activities. You might have seen him on TV a few weeks ago, talking about his farm on Virginia Currents. The Hanover County Master Gardeners are touring delli Carpini on September 8th, and he's working with Alewife to plan a Canary Islands dinner on September 29th (more on that later). Dominic also plays music as a member of The Cashmere Jungle Lords.

Our members will find a lot of good things on the delli Carpini page. Check out the early white California garlic, which Dominic notes is mild and delicious, besides being one of the best storage garlics you can find. And there are Stuttgarter onions and Red Wethersfeld onions, cured carefully and ready for storage, sold in small batches or larger cartons. Get them while he has them, and you'll enjoy them into the fall and winter. "The onions have spectacular taste, says Dominic. "They're especially good this year."

Published: 07/08/2019
Save the Summer Bonanza! How to Freeze Berries for Later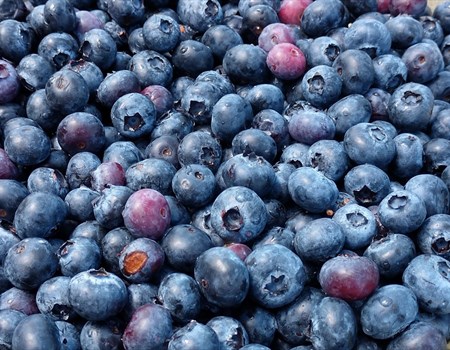 Maybe you pick them yourself. Or maybe you purchase them from one of our producers. (Our newest producer, delli Carpini Farm, has a limited quantity of wild-foraged berries this week, and Agriberry has fresh farm-grown berries in large quantities.) But certainly, you'll want to save some of this summer goodness for later!

There's no doubt that, in the middle of February, when there's snow on the ground and it's cold outside, there's nothing better than being able to make yourself a nice berry cobbler or delicious, hot muffins filled with summer berries. Freezing your summer berry haul ensures that you can enjoy them all year, until next year's crop comes in!

Freezing berries is easy and quick, and freezing them individually makes them easier to measure out later for recipes. If you just put unfrozen berries in a bag and seal them up, they stick together and aren't as versatile.

To freeze individually, spread the berries out on a jelly roll pan in a single layer. You can put parchment or wax paper under them if you like, but you can also just put them straight onto the pan. Make a level spot to stash the pan in the freezer. Leave your berries in the freezer overnight--or at least for five or six hours. You want the individual fruits to roll around like marbles on the sheet pan when you take them out.

Using a wide spatula, scoop the frozen berries into a freezer bag. Press the extra air out of the bag. You'll be able to just dip a measuring cup in later to use your fruit for a recipe.

We use a vacuum sealer at my house to freeze berries in two-cup batches. Freezing them individually first means that they aren't crushed by the sealer. (I usually freeze in 2-cup batches.)

Store the berries in the back of the freezer, where they are less likely to melt and stick together. You'll enjoy fresh, local berries well into the winter season.

By Katie Hoffman, FLF&LR Marketing Director

Published: 07/05/2019
It's Time for Ratatouille!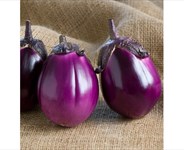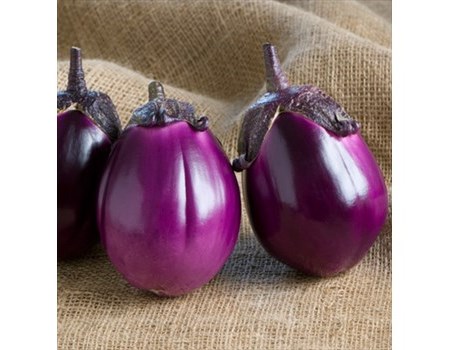 Garlicy, tender, sweet, and filling. This stew is the Italians' way of using summer abundance to make a delicious vegetable stew. Ratatouille is an old Italian recipe incorporating whatever is coming in at the moment, with a few staples to anchor the dish. (Like eggplant and squash).

There's lots of room for your imagination! Riff on this if what you have on hand is a little different from what's listed below in the recipe. If you don't like one of the ingredients listed below, leave it out. You have total permission to tinker!

One element that I always include is eggplant (see the beauties pictured above, from Broadfork Farm) and always squash. If I don't have zucchini, I use yellow squash. If I'm feeling like it, I mix the two. And onions. Lots of onions and garlic! (Like the Thistledowne Farm onions pictures above). Best of all, you'll find virtually every ingredient on this list on the Fall Line Farms and Local Roots page this week—just enter each one into the search bar to find your options.

Having company? Ratatouille can be made 2 days ahead and chilled, covered. Bring it to room temperature or reheat it before serving.

I've also had success with freezing ratatouille if I stop cooking it before it's all the way done (while the vegetables are still firm). Imagine pulling a pint out of the freezer in February and tasting all that summer goodness while snow is on the ground!

Fresh or from the freezer, I usually serve ratatouille as is with curls of parmesan cheese on top and crusty bread on the side. I also serve it as a side dish to tasty, tender, sustainably raised meats like the ones on our pages.

Fall Line Farms and Local Roots Ratatouille

(Adapted by Katie Hoffman, FLF&LR Marketing and Promotions Director, from a recipe found in Gourmet magazine, 2003)

Ingredients
• 3 or 4 large tomatoes
• 8 large garlic cloves, chopped
• 1 cup chopped fresh Italian parsley
• 20 fresh basil leaves, torn
• 1 cup plus 2 tablespoons extra-virgin olive oil
• 2 lbs eggplant, cut into 1-inch cubes
• 2 1/4 teaspoons salt
• 2 large onions, quartered and sliced (Like the ones from
Thistledowne Farm, pictured above)
• 3 assorted bell peppers any color, cut into bite-sized pieces
cut into 1-inch pieces
• 4 medium squash (yellow crookneck or zucchini) cut into 3/4"
chunks
• teaspoon black pepper

Blanch and peel tomatoes. (You can cut off the stem end of each tomato or core out the stem and put them in boiling water for one minute. Transfer them immediately to a bowl or sink filled with ice water and let them sit for a minute to cool. The peels will slip off easily.)

Coarsely chop the tomatoes and transfer them to a 5-quart heavy pot with the garlic, parsley, basil, and 1/3 cup oil. Simmer, partially covered, and stir them occasionally until the tomatoes begin to break down and the sauce is slightly thickened. This takes about 30 minutes.

While the sauce cooks, toss the eggplant with 1/2 teaspoon of salt in a large colander and let it stand in sink 30 minutes.

As the eggplant drains, cook the onions in 3 tablespoons oil with 1/4 teaspoon of salt in a 12-inch heavy skillet over moderate heat, stirring occasionally, until softened (about 10 to 12 minutes). Transfer the onions to a large bowl, adding 3 tablespoons of oil to the skillet and cooking the bell peppers with 1/4 teaspoon of salt over moderate heat. Stir them occasionally, until softened (about 10 minutes).

Transfer the peppers into the same bowl as the onions. Add 3 tablespoons of oil to the skillet and cook the zucchini with 1/4 teaspoon of salt over moderate heat, stirring occasionally, until the zucchini is just tender (6 to 8 minutes). Transfer the zucchini into the bowl with the other vegetables.

Pat the eggplant dry with paper towels. Add the remaining oil (about 1/4 cup) to the skillet and cook the eggplant over moderate heat, stirring occasionally, until softened (10 to12 minutes).

Add the vegetables, the remaining teaspoon of salt, and the black pepper to the tomato sauce and simmer the stew, covered, until the vegetables are very tender, about 1 hour. Stir it occasionally as it cooks. Cool it uncovered, and it serve warm or at room temperature.
When the stew is ready to serve, garnish it with Parmigiano-Reggiano shavings and fresh basil.

8 to 10 side-dish servings/4 main-dish servings.

Published: 06/21/2019
Buy Local for You--But for Your Community, Too!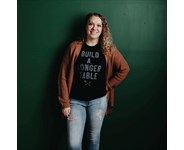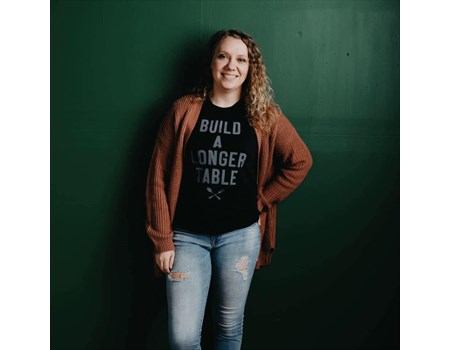 A guest column by Bailey Mennona, The Food Systems Nutritionist.

(Pictured above, Bailey herself--and her warm carrot and spinach salad.)

Local food is often touted as being super beneficial for consumers. And it is!

When consumers buy local, they enjoy personal interactions at farmers markets and fresher food than when they buy at supermarkets. Food is tastier and more nutritious due to not having to travel as far.

But buying local also extends outward from our own tables and benefits our communities. It helps improve the local economy by keeping money at home, thus creating more jobs. And consumers gain influence when they can talk directly with farmers about their farming methods and ask for what they want.

But what about the producers? How does purchasing local food help those who work tirelessly in the fields to feed their communities?

1. Farmers can set their own fair prices.

We are made to believe that food is cheaper at the grocery store, and it usually is. But what does this mean for the farmers who produced it? Are producers able to live off this pay, or is most of the money consumers spend at the grocery store going toward overhead, like paying truckdrivers and maintaining buildings?

Are farmers able to pay their farm workers a liveable wage? Are they able to adopt sustainable farming methods to keep our water-ways and food safe and to keep us healthier?

All of these questions are important in considering the price of a product. When you support small and mid-size local farmers, you may spend a little more money. But that money goes directly to supporting a family instead of to an industrialized agri-food company.

Consumers are also able to talk with farmers about their farming methods, building lasting relationships and increasing local identity and also helping determine what fresh, seasonal foods are available at the market.

2. Buying local helps shape future farming policy supporting small and mid-size farmers.

Currently, our food policy is shaped and supported by industrialized farms. Purchasing local food creates a shift in our communities. If local farmers are having issues with specific food policy, consumers can mobilize to create local food policy changes that benefit small and mid-size farmers. Then, consumers empower farmers to deliver what the consumers really want.

3. Purchasing from local farmers can increase efficiency and decrease waste--if the right policy is enacted.

Small Farmers can sell more hard-to-sell items directly to consumers and avoid wasting them. This includes chicken feet, bones for broth, liver, etc. They can also offer niche items, like delicious but delicate heirloom varieties of vegetables that wouldn't survive cross-country travel.

Buying local decreases food waste through the purchase of bulk items. Food left over at farmers markets can be repurposed as specialty items such as canned and baked goods. Any other leftover food can be recycled back into the local food system through livestock feed, compost, and/or bio-fuels.

Buying locally is good for you, but it's good for your community and your environment too!

ABOUT BAILEY: Bailey Mennona is Virginia Beach mom and military spouse who's a big fan of Fall Line Farms and Local Roots, even though she lives too far away to be a member. She has a BS in Nutrition and a Masters in Sustainable Food Systems. She is "constantly questioning the status quo of nutrition and the food system." This is her first guest column for our weekly newsletter. You can find her on Twitter (@FSnutritionist) on Instagram (@thefoodsystemsnutritionist) and on Facebook as The Food Systems Nutritionist.

Published: 06/14/2019